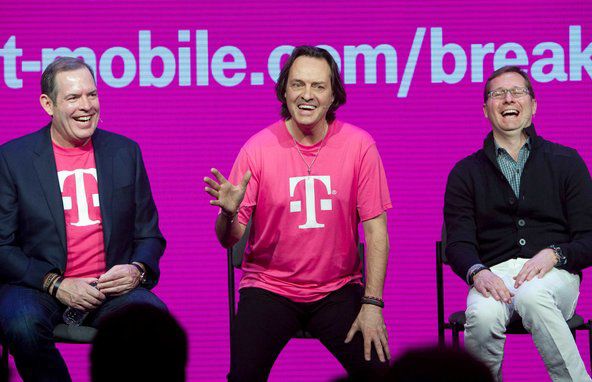 T-Mobile has just taken the wraps of its latest Uncarrier phase. Uncarrier 7.0 is all about being a mobile internet company an unleashing its customers from current restraints.
A big part of Uncarrier 7.0 is offering up Wi-Fi calling and texting for every Simple Choice customer on every new smartphone it sells. 100% of new smartphones in store will be Wi-Fi calling and texting capable, and if you have one that isn't, T-Mo's going to make it super-easy for you to upgrade to one. There's an exclusive JUMP! window opening so that customers can immediately upgrade to a device capable of Wi-Fi calling and texting.
"Wi-Fi Un-leashed is a game changer. This is like adding millions of towers to our network in a single day," said John Legere, president and CEO of T-Mobile. "The difference between us and the traditional carriers is that they'll do everything they can to make more money off you. We'll do everything we can to solve your problems, and today, that's about uniting Wi-Fi with our data strong network for unprecedented coverage."
No app is required, no separate IDs to remember, just use your phone – is the line used in the PR pitch. You'll be able to use any public or private Wi-Fi connection for calling or texting. The company has also rolled out higher quality HD Voice, faster call setup times and fewer dropped calls as well as seamless voice coverage between the VoLTE and Wi-Fi (with compatible smartphones.) T-Mobile customers will also be able to make free Wi-Fi calls to the U.S from anywhere in the world, wherever you have Wi-Fi.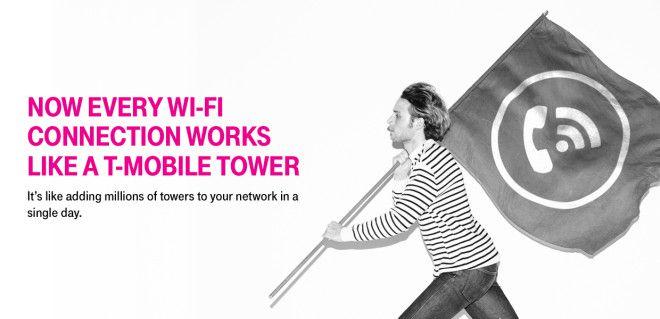 And that's not all. You'll be able to use your Wi-Fi texting from the skies. Any US-based airline with Gogo-equipped Wi-Fi will let you text, picture message and get visual voicemail from thousands of feet up in the air. From September 17. (No calls).
WI-Fi unleashed also includes one thing we leaked recently: The Personal Cellspot. Every Simple Choice customer will be able to get a Personal Cellspot free of charge with a refundable $25 deposit. What's more, it's a market-leading wireless router. So it can replace your current one, or work alongside it. This will be available from September 17.
"For years, the big phone company utilities have told you where you can and can't have coverage. And wherever their networks can't reach, you're SOL," said Legere. "With T-Mobile Personal CellSpot, we're putting an end to that old way of thinking. Now, you can decide wherever you want your own T-Mobile tower ? giving you amazing full-bars experience where no carrier network has reached before."
In short – Today was all about Wi-Fi calling and being able to get it from anywhere. But also about being able to get full coverage in your home. Whether that's in your basement or upstairs in the loft. You'll get full signal with the Personal Cellspot.
Found out more on T-Mobile's splash page here.
"Specifically, the Un-carrier announced:
 Wi-Fi calling and texting for 100% of T-Mobile customers and business customers
o   100% of new smartphones in T-Mobile stores are Wi-Fi calling and texting capable.
An exclusive enrollment window in JUMP! – T-Mobile's revolutionary upgrade program – so 100% of customers can immediately upgrade to a new Wi-Fi calling ready smartphone.
 Next-generation Wi-Fi calling and texting on its network
o   Designed to deliver high-quality HD voice, fast call setup times, fewer dropped calls and seamless voice coverage between T-Mobile's nationwide Voice over LTE (VoLTE) network and Wi-Fi with compatible smartphones.
 Full-bars personal coverage wherever you choose
o   The T-Mobile Personal CellSpot – a new device that enables everyone to put the capabilities of a personal T-Mobile tower in their house, delivering a full-bars T-Mobile experience ANYWHERE you have broadband, and equipped with a unique patent-pending technology that prioritizes voice calls for crystal clear HD Voice.
o   An exclusive, new partnership with Gogo – the world's leading in-flight connectivity service – enabling T-Mobile customers to send and receive unlimited text and picture messages, and even get visual voicemail, on any Gogo-equipped flight on U.S.-based airlines."