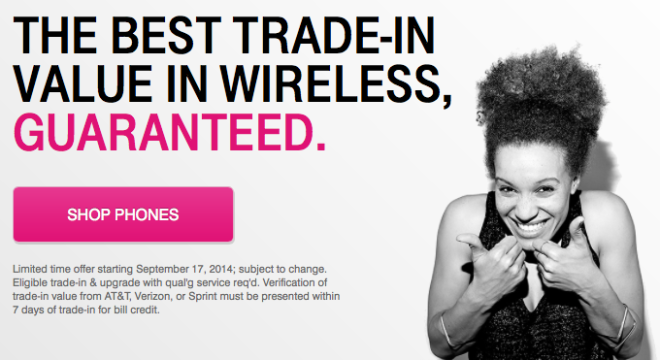 T-Mobile this morning announced that it's launching a new initiative to help customers get the best offers when they trade in their old devices. And if you find a better trade-in price at another national carrier, it'll beat their price by $50.
The move is being put in full swing ahead of a "huge wave of superphones and tablets coming to market". These devices will undoubtedly include the iPhone 6 (or whatever Apple announces tomorrow), the Galaxy Note 4, the Xperia Z3 and other new products arriving between now and the holiday season.
"To make good on this guarantee, T-Mobile will track the market every day to ensure we keep our promise. If a customer can find a better trade-in offer from a major national carrier, T-Mobile will beat that offer, give them the difference back and because we value this help from our customer we will top it off with another $50!"
All you have to do to take advantage is call T-Mobile or go online within 7 days of completing a trade-in at T-Mobile and then tell them where, when and for how much they saw a better deal for their old device. But of course, the press release wouldn't be complete without John Legere's usual challenge to the other major carriers.
"We're going to see some of the most phenomenal devices ever in the coming months, and that means a whole lot of Americans trading-in their devices and upgrading," said John Legere, president and CEO of T-Mobile. "For years, the big carriers have been ripping off their customers with low-ball trade-in values, so we're putting an end to that and guaranteeing we'll give customers what they deserve ? the best value in the industry." 
Price-matching trade-ins is only available when you compare prices from the other national carriers (AT&T, Verizon and Sprint). So it won't matter if you find a better offer for your device from the likes of Gazelle, NextWorth or Apple's own retail stores. There's no specified end date, but it is a limited time offer. Full fine print is below:
Best Trade-In Value Offer: Participating locations only. Eligible device trade-in, qualifying credit, and new device purchase with qualifying postpaid service required. Verification reflecting trade-in value from AT&T, Verizon or Sprint must be presented within 7 days after trade-in; value match (plus, for limited time, additional $50) provided as bill credit. Special/promotional trade-in offers excluded. Additional validation may be required. Customer must be active and in good standing at time credit is processed; applied within 2-3 bill cycles. One trade-in per active line, up to 10 lines. Trade-in transactions are final; after you trade in your device, you cannot get it back
The iPhone 6 is expected land in store shelves on Friday, September 19th, while the awesome-looking Note 4 will arrive at a non-specified time alongside the Note Edge later this fall. Will you be JUMP!-ing to any of these new devices? Or will you just hang on to your current phone?
Source: T-Mobile