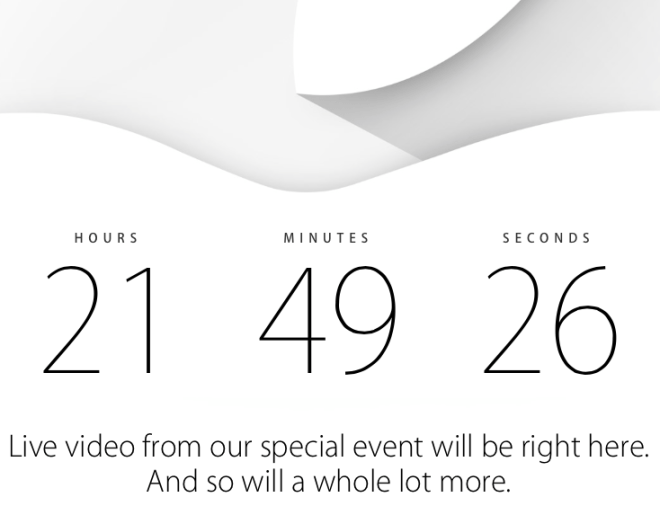 It's that time of year again, the time where only one tech company gets all the attention: It's Apple week. Although, T-Mobile's doing its best to make sure it gets noticed too. Still, for the second year running, the iPhone launch event is going to be live-streamed on Apple's website. Head on over to Apple.com/live and you'll see a countdown placeholder ready for the device unveiling to be streamed straight to you.
The stream – as with all previous feeds –  will be compatible with Safari on iOS devices and Macs (with QuickTime installed) only. It'll be available to stream on 2nd/3rd generation Apple TV too.
As for expectations, many rumors from well-sourced sites have told us for months that we should expect two new iPhones. One will be 4.7-inch and another 5.5-inch, running the latest iOS 8 software, with better cameras, a redesigned chassis and a higher resolution display. We're also told to expect a wearable device in two sizes, and 4 different color/style options of each size (male/female designs perhaps). The fact that so many fashion and design publications have been invited last minute is a sure sign that something different is going to happen tomorrow.
If you'd rather follow live-blogs as well, you can expect the usual crowd to be covering the event. Sites like CNET, The Verge and – for the first time since 2009 – Gizmodo among others will certainly be there covering all the action as it unveils.
The event kicks off at 10am Pacific/12pm Central/1pm Eastern.