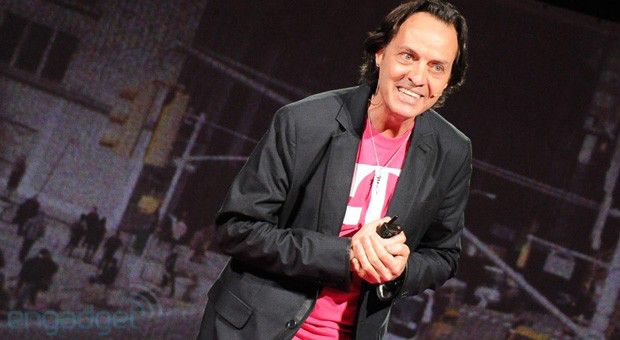 As some of you might know, I'm currently on a (working) vacation, visiting family in the land where broadband internet is still novelty, and where 4G and fibre are nothing but a pipe-dream. In that mentality, I may have missed something when reading through T-Mobile and John Legere's announcements yesterday. Somewhere in his jibe at the state of the industry, and dissing Sprint for trying to be disruptive in a very old-school carrier way, the following was typed. And I – somehow – completely missed it.
"American's appetite for mobile data is growing exponentially. And nowhere is this more true that at T-Mobile, where our customers use more data than customers of AT&T, Sprint or Verizon. A lot more. At T-Mobile, our Data Strong™ 4G LTE network is the nation's fastest. And we have 70% more network spectrum per customer than even Verizon. So, we can give American's even more speed and data and what they really want?without restrictive contracts, overages, bill shock and all the other strings. And stay tuned for more news soon about our next offers and Un-carrier moves.  We will have more to share next week." (Bold added for effect).
T-Mobile is going to share something new next week. Now, if it's a sneaky attempt at getting us all excited about Uncarrier 7.0, it was almost too sneaky. I'm used to an out-there tweet shouting about how the company is going to remove yet another major pain-point from the lives of U.S. mobile subscribers and an invite to confirm said event. Instead, it was merely a quiet sentence in an otherwise combative post. A post which was an absolute joy to read (once family activities had ended and I had time to sit and digest it). So it's certainly not an Uncarrier 7.0 move.
But what can we expect from a carrier which has already launched two fantastic and competitive offers this past few weeks? We've already seen the 4-line Simple Choice family plan have its data allowance bumped up to 2.5GB per line from 1GB (until 2016). And yesterday, the company announced an awesome refer-a-friend deal which would give you and anyone you bring to T-Mobile free unlimited data for 12 months. So what's left to do?
Anything I suggest is a complete guess and – as of yet – I have no inside track on it but I'd suggest bumping up the data allowance for all Simple Choice Family Plans. So, if you can get 10GB (2.5GBx4) for $100, why not add an extra 1.5GB to all the plans? Since – at the moment – there's little benefit for anyone to get a 4-line Family Plan on the second tier $60 plan. I mean, who's going to pay $140 per month just so everyone can have an extra 500MB of data? And – of course – it's better for T-Mo to get people on a higher plan.
So, what if T-Mo decided that you could now get 4 lines with 4.5GB of data each for $140, and for a further $40 more get four lines with 6.5GB (up until January 2016)? To me, it makes sense to offer a data bump at every tier. But if T-Mo and John Legere likes surprises as much as I think they do, I'm predicting it's probably not that. All we know is something else is happening and it took me far too long to notice. Side note: What if T-Mo announced that the Device Unlock app was available/compatible with more Android handsets? Wouldn't that be something?
Have you guys got any predictions? Let me know your thoughts in the comments or grab me on Twitter. Read John Legere's full blog post here.