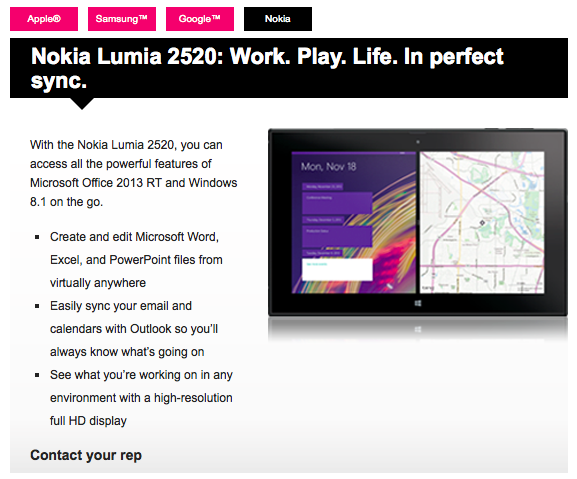 We've not heard a whisper about the supposed upcoming T-Mobile friendly Lumia 2520 since the now-retired @evleaks showed it off last month. But, thanks to a tip from Tin (@atomic50) on Twitter, we've discovered that it's included in T-Mobile's "The Source for Business" guide online. The snapshot above shows up as one of the four options in the 'Choosing the right tablets for your workspace' section, alongside some of the usual Android, Samsung and Apple suspects.
Sadly there are no prices on show, and the device doesn't yet show up on the consumer or business online stores, so there's little else to share details-wise. If you're a T-Mobile business customer, the best way to discover more is to call your rep (as suggested in the guide). The device features the following key specs:
10.1-inch, 1920x1080p IPS LCD display  (218ppi)
2GB RAM
2.2GHz quad-core, Snapdragon 800 processor
32GB storage (expandable via Micro SD up to extra 64GB)
6.7MP camera with Carl Zeiss optics (1080p video recording)
2MP front camera with 720p video
8,120mAh battery
802.11 Wi-Fi (a/b/g/n) and Cat 4 LTE (up to 150Mbps downloads)
Dolby sound enhancement through headphones
HDMI port
Runs Windows 8.1 RT
What makes this exciting is that it's the first Windows tablet T-Mobile has stocked, and is regarded as one of the best on the market. At least, the best looking, thanks to Nokia's superb hardware design. In the mean time, keep an eye out on T-Mo's online store for updates, and let us know if you get them in your own store. Email cam@tmonews.com.
Source: The Source guide for business