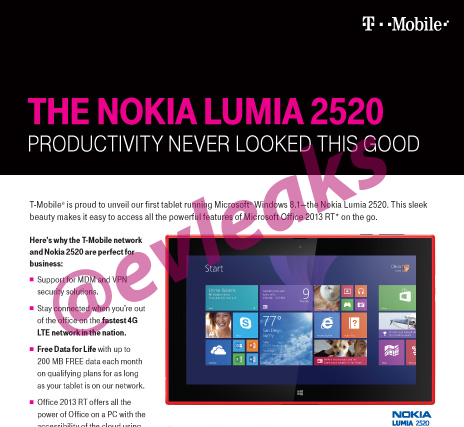 Nokia's Lumia 2520 tablet caused a ripple of excitement back when it was launched last December. It was Nokia's first attempt at a Windows-based tablet, and it looked really cool. Its full HD, 10.1-inch, 16:9 ratio IPS display acts as the portal through which you enter the world of Windows RT. What's more, it's equipped with category 4 LTE, giving it a theoretical top download speed of 150Mbps. It also has a 6.7MP rear camera with Carl Zeiss optics, a quad-core 2.2 GHz Snapdragon 800 processor and a non-removable 8120mAh battery.
And, if a recent leak from @evleaks is anything to go by, this 4G Windows tablet could be set to finally launch on T-Mobile.
There's no further information in the leak. No pricing is mentioned, and neither is any specific release date. Once here, it'll be the first time T-Mobile has carried a Windows tablet, and perhaps shows a little more commitment to Microsoft than we're used to.
If we hear anything extra from our sources (price/release date/stock in store images) we'll let you know.
Who's excited? Will you be grabbing the Lumia tablet on EIP when it's here?