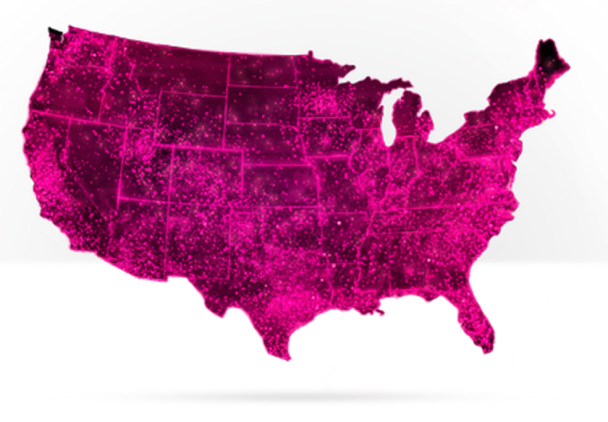 It's Wednesday, which means it's time for our regular roundup of network improvement sightings from our own readers. And as time goes on, it's becoming evident that T-Mobile's network expansions and upgrades are gathering speed.
We're monitoring three different upgrades at the moment. First is the VoLTE service expansion. Ever since it was first made available in T-Mobile's home town of Seattle, it's been popping up in multiple markets across all areas of the U.S. And it's being made available in more cities and towns than is on T-Mo's official list.
.


VoLTE

This week we've received emails from readers in several locations, spotting VoLTE for the first time. If you want to check out your own area, you need to ensure you have a Galaxy S5, LG G Flex, Note 3 or Galaxy Light running the latest software version. If, when making a call in a LTE-covered area you notice that the LTE connection remains, you've more than likely got VoLTE. In non-VoLTE covered markets, your signal will drop to 4G/HSPA to make the phone call.

VoLTE has been spotted in the following locations:
Greensburg, PA
Jacksonville, FL
Northern Denver suburbs
Fontana, CA
Albany, NY
Pittsburgh
Of course, more than anything, we're hoping that more handsets are issued a firmware update soon to take advantage of T-Mobile's new network technology. We'll keep you up to date on those as they come.
.


Wideband LTE

The best way to spot areas covered by wideband LTE is to perform a speed test. If you get speeds way higher than average (30Mbps-plus) chances are, you're either covered by 15+15 or 20+20 LTE. There are ways to be completely sure, for instance, putting your device in to ServiceMode will give you access to that kind of information, displaying exactly what bands you're using. The only new market covered by wideband we've been sent this week is in Green Bay/Manitowoc. Our reader there got download speeds over 40Mbps.
.


Upgrade to 4G and LTE

Earlier this year, T-Mobile announced that it would be replacing 2G/EDGE with 4G/LTE throughout this year. The plan is to eventually shut down 2G in many markets, but that's just not feasible right now. Still, we've been informed of many markets that have received either HSPA+ or LTE for the first time:
Hillsboro, TX
Torrington, CT
Espanola, New Mexico
Calhoun, GA
Moscow, Idaho
Manchester, NH
Willimantic, CT
What I will say is that although some of these areas may not show up on T-Mobile's official 4G map, you can contribute to help light up a real-user map using the Sensorly app. By launching the app, and hitting "MapTrip" you can set your phone to map your routes while you're running, driving or commuting and Sensorly's data will be update to show what network is in place where you live, work and play.
Of course, keep sending in your updates to cam@tmonews.com and I'll do my best to keep up with all the developments.