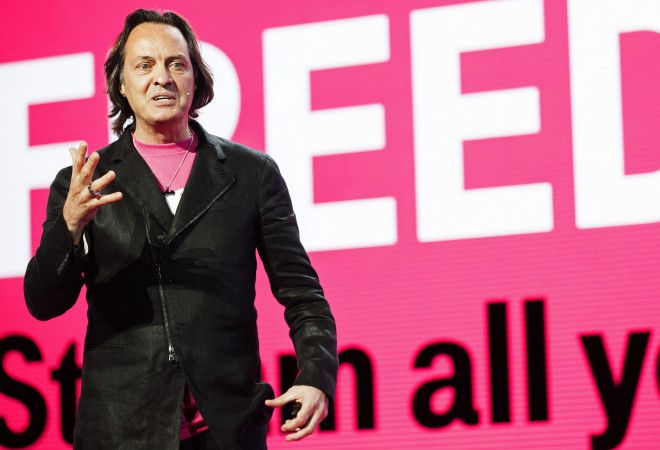 John Legere invited everyone to "cheat on their carrier" at the most recent Uncarrier event in Seattle last month. He proudly announced a new phase of its industry-changing movement which would allow anyone to take an iPhone 5s for 7 days, free of charge, to see how they get on with the carrier's network.
Since then, thousands of people have signed up, and a handful of tech journalists have given it a spin too, and the results have generally been quite similar. In a lot of cases, the reviewer notes that indoor LTE coverage is weak. Something we already knew, and something T-Mo is addressing with the 700MHz spectrum roll-out at the end of this year. But many also noted the faster download speeds, and easy sign up process as major plus-points.
I read through a number of reports, and here are the take-aways and key points from those (headlines are links to the original articles).
Well-known tech pundit, Mossberg, tested the iPhone 5s on T-Mo in his "home base", Washington DC and also in San Francisco. Two areas he was already scheduled to be in during that period. He used it alongside his Verizon iPhone 5s, and compared various functions: calls, streaming, texting, surfing and emailing. In those tests, the T-Mobile phone performed as well as the VZW model. He also performed speed tests in a couple of locations.
"The result: T-Mobile beat Verizon overall, in each location. T-Mobile averaged just over 10 megabits per second downstream, versus 6.8 Mbps for Verizon. In D.C., T-Mobile averaged 11.4 Mbps down, much faster than Verizon's 7.6 Mbps. In San Francisco, T-Mobile averaged 8.7 Mbps down, versus just about 6 Mbps for Verizon."
Saying that, he did note that T-Mobile's performance was uneven. Many times the results were under 1Mbps, and multiple over 20Mbps. His takeaway: T-Mo is good, but he's not switching.
Dave Rees' journal over at the-gadgeteer.com was one of the more positive reports. In fact, it ended up with him switching his family over to T-Mobile from Verizon. He noted that over the past few months, Verizon's quality of service has dropped and so he was keen to see just how well T-Mobile performed in his home area.
As we tested T-Mobile's service throughout our world, it appeared to be significantly better than Verizon hands down, walking away. Many places where we had only a bar or two with Verizon were showing five bars of T-Mobile LTE. Call quality was also several quantum levels better than Verizon…crystal clear.
As for the Test Drive service itself, the box with the phone arrived incredibly quickly after signing up. Speed tests regularly showed speeds over 45Mbps, beating his home broadband connection from Comcast, and Verizon LTE.
After three days testing the phone, he took the device back to a T-Mobile store, and ended up signing up for himself, his child and his wife, plus iPads. All on T-Mo's network. In this instance, the Test Drive did exactly what it was supposed to: Convinced someone to leave their old network without costing them a penny. Switching, incidentally, is saving Rees over $100 per month in plan fees.
Melissa Holt noted in her review, also, that T-Mobile got the phone to her hands in speedy fashion. Two days after signing up, in fact. Sadly, her experience after that wasn't so hot. Despite T-Mobile's site indicating she should be getting good 4G coverage, she regularly got between 0-1 bar of signal. Also noting that calls regularly failed.
After driving around for a bit, I did notice that the speed of T-Mobile's network seems very comparable to AT&T's in my area, so when the coverage was good, everything clicked along just fine. The fact that the service won't work in my house is a deal-breaker, but naturally, your mileage may vary. I do note that T-Mobile offers free signal boosters for customers who meet their qualifications, so if your coverage is poor, that's one route to take. 
Saying that, her take-away was still pretty positive. Stating that the Test Drive is a really great, and easy way to see if T-Mobile's network will work for you. She may not have the best coverage, but at least she's been able to test it out for herself without having to sign up for any plan.
Unlike some of the other reporters, Silverman's signing up experience wasn't the smoothest. But after an issue with his credit card was resolved in a "polite and enthusiastic" manner, the phone arrived pretty promptly. But signal, yet again, wasn't fantastic. The phone would often drop to EDGE, and this was only a couple of miles from downtown Houston, which generally has incredible LTE coverage and was recently upgraded to wideband LTE.  And it was the same at work:
At work, I had a similar issue. Although I had four bars and a 4G icon on the phone – what you see with an HSPA+ connection – I couldn't get any websites to load or apps to pull in data. Stepping outside on the newsroom balcony of the Houston Chronicle building helped, but the connection was still pokey. Earlier that morning, at an intersection a block away, I got 28 megabits down and a strong LTE signal. The next day, I was able to get a data connection at my desk, but it remained sluggish.
Still, when he got to an area with good signal, speed tests were phenomenal, pulling in speeds close to 70Mbps. But, the fact that T-Mo LTE was struggling to get through in to his home and work space were deal clinchers. His AT&T service in the same locations were massively better.
Like Silverman, Tricia Duryee struggled with the reception at her house as she was unable – on most occasions – to access T-Mobile's LTE network. Duryee's home is right near Seattle, T-Mo's home city.
In response to my experience, T-Mobile acknowledged it can't reach every house and building. (I live just off a major arterial in the City of Seattle, albeit on the west-facing slope of West Seattle.) A spokeswoman also offered me additional equipment that would boost the cell site's range to my house, and pointed out that in circumstances like these, it's possible to make phone calls over Wi-Fi.

But generally, nothing could be done. I'm better off using Verizon, and my husband is very satisfied with AT&T.
Yet another who recognizes the value of being able to test out the service, but won't be switching because she gets better network service from her current carrier.
.


Bottom Line

All of these experiences are personal, and only really apply to the people writing about them (and those who perhaps live and work in the same areas). But the truth is, you're not going to know if T-Mobile works for you unless you try it for yourself.

If you've taken the Test Drive, be sure to let us know your experiences.