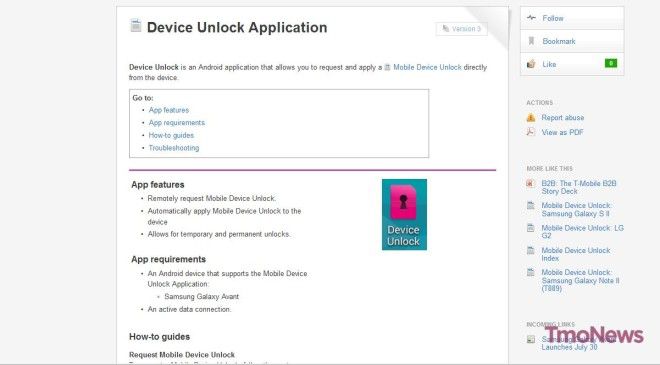 Just before the Uncarrier 5.0 event last month, we received information from a T-Mobile test engineer telling us that the test version of the upcoming Galaxy Avant came equipped with a device unlocking app. The source told us that the app worked very simply. But where we were a little unconvinced was when we were told that the app just "disappeared" once it had been used.
However, we've been sent an internal guide today showing that such an app is in development and that T-Mobile has a guide set up for it. From the information in the guide it would appear that the app is only going to be compatible with specific Android phones. Right now, that's only the unreleased Samsung Galaxy Avant.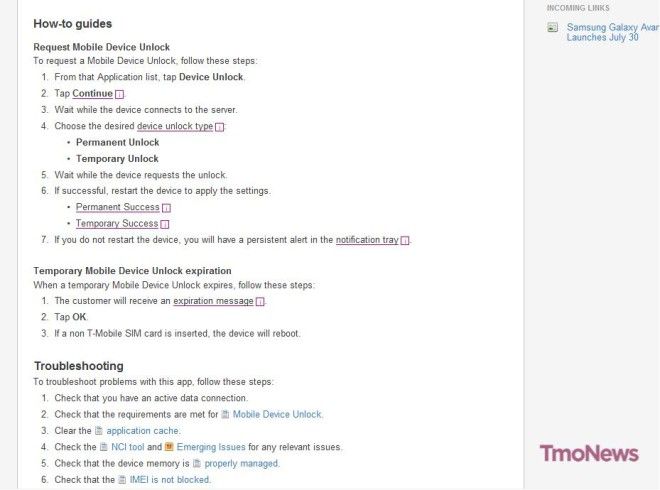 It would also seem like the process of unlocking a smartphone is very simple. All the customer would need to do is launch the Device Unlock app and tap 'Continue'. The app will connect the smartphone to the server and then offer the choice of a temporary or permanent unlock. Once selected, the device requests the unlock and will then inform the user if the request has been successful. A handset reboot is required for both kinds of unlock request.
Following an announcement recently that the Senate was pushing through changes to cellphone unlocking rules, it would make sense for T-Mobile to make the most of it, and show itself as the "Uncarrier" yet again. As I've written in the past, making phone unlocking much simpler – or just selling them unlocked – would give the "Uncarrier" name a whole new meaning.
Still, we don't know much else about the Device Unlock app. We're almost certain that it won't be available on the Google Play Store, so it's not going to be a public, freely available app. Instead, T-Mobile wants to work on getting working on more devices and having it as a built-in default app. But from what we've been told by our sources, nothing has been finalized yet. It's still very much in testing mode. We still don't know for certain if the app really does "just disappear" after use.
Bad luck though for iPhone users. Given Apple's hatred of carriers installing software on to phones and the fact that it more than likely breaks the rules of the App Store, it's almost certainly never going to be available on iOS.
If we hear any more on this, we'll be sure to keep you updated. In the meantime, what do you make of this?