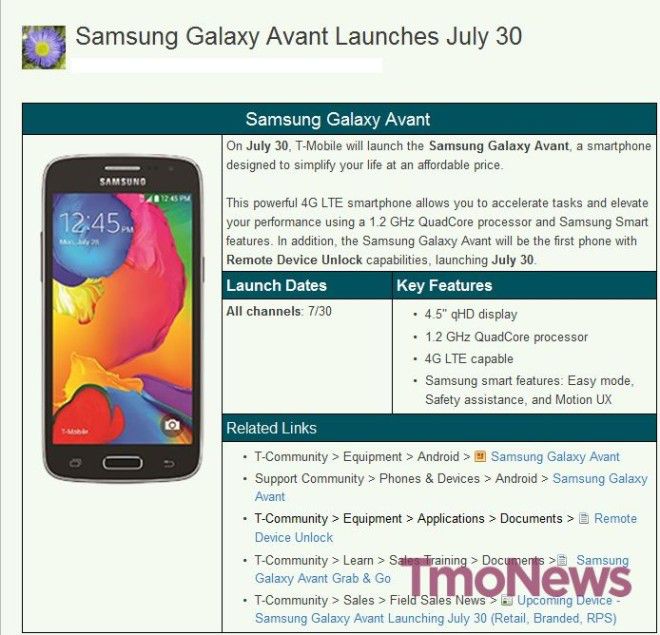 T-Mobile handset leaks are all coming out from hiding today, as we hear of yet another rumored phone to be on its way to T-Mo retail stores very soon. We've already heard about the unconfirmed ZTE handset as well as the Kyocera Hydro Life. But another – which has been popping up here and there for the past few weeks – is the Samsung Galaxy Avant, and it's one we've been intrigued by for a while.
Today, sources have told us – and sent us internal memos – detailing the release date and the list of key features of this interesting device. The memo reads:
T-Mobile is adding another Android device, the Samsung Galaxy Avant, to our device line up onJuly 30! This powerful 4G LTE smartphone has been designed to simplify customers' lives at an affordable price. The Samsung Galaxy Avant was designed for performance with a 1.2 GHz Quad Core processory and Samsung smart features, such as Easy Mode, Safety Assistance and Motion UX. In addition, the Samsung Galaxy Avant will be the first phone with Remote Device Unlock capabilities, launching July 30.
The spec list itself seems decent enough. It's shaping up to be a middle-of-the-road budget device. The fact that a screen resolution isn't mentioned is a sure sign that it's mid-range, as is the fact that it's not had its own launch announcement by either Samsung or T-mobile. Key features, as listed in the memo include:
4.5″ qHD Display
1.2 GHz QuadCore Processor
4G LTE Capable
Easy Mode
Safety Assistance
Motion UX
What's interesting here is the "Remote Device Unlock" feature. It's something we've been hearing about since a test unit of the Galaxy Avant was shown to us a little while back.
As much as we hoped it would happen, we were skeptical at the time that it would ever make a public release. But following information we've been sent today, we're more certain that T-Mobile is planning to launch an easier way for customers to unlock their devices than we were previously. We detailed the process just a short while ago and it seems an app is loaded on to the phone and will enable the user to either unlock their phone permanently or temporarily. If so, launching the app and service on a non-flagship device would give T-Mobile the time to see how popular it might be if rolled out on a larger scale and also give time to work on any potential bugs and fix them.
The Galaxy Avant is also likely to be the first smartphone released that's compatible with T-Mobile's upcoming 700MHz spectrum. We're expecting it to launch online and in retail stores, and through all channels on the same day.
UPDATE – The Galaxy Avant has appeared on T-Mobile's support pages, here's the full spec list: