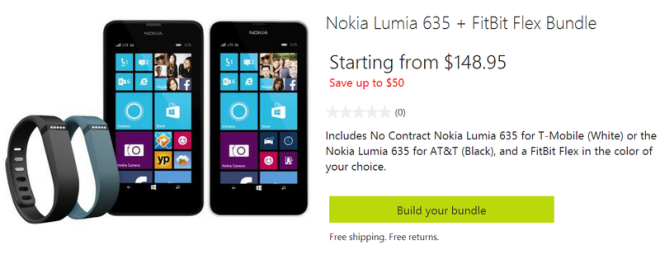 Only recently, Fitbit finally launched a Windows Phone app for its popular fitness tracking wearables. To coincide with the app launch Microsoft is offering up a great deal through its online store.
You can pick up a T-Mobile Nokia Lumia 635 and a Fitbit Flex together for $178.95. (We'll try to ignore the fact you can get the AT&T variant and Flex together for just $148.95). Still, it's a decent offer if you're already in the market for a fitness tracker and a new smartphone. Through T-Mobile's store, a Lumia 635 will set you back $168 on its own. To get a $100 fitness tracker for just $10 extra is pretty fantastic. That said, you can pick up the phone on its own direct from Microsoft for just $129 if the Fitbit isn't attractive to you.
Let us know if you're planning to pick one up with this deal, or if you're waiting for the cheaper Lumia 530.
Source: Microsoft Store
Via: WPCentral