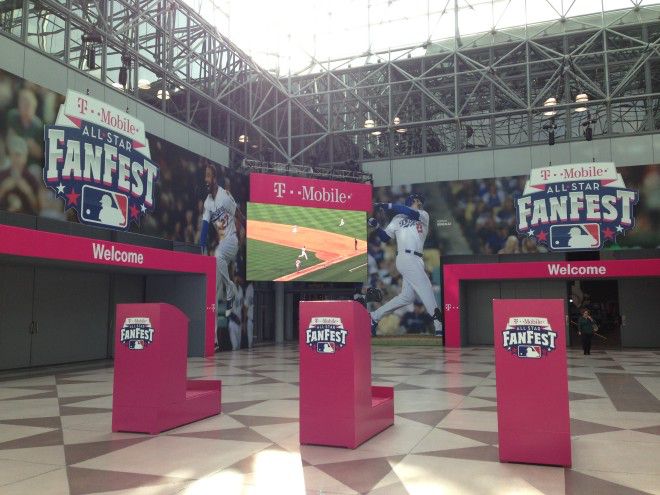 Over the past few days it became apparent that T-Mobile and MLB's partnership was once again bringing rewards for the baseball faithful, offering free audio MLB at Bat access. But this year's relationship is bringing much more with it than just a free annual subscription. Chief among today's announcements by T-Mo is the "Game Changer Award."
During this MLB season, baseball fans will be able to vote for what they believe are the most significant game-changing moments, with awards being handed out once the season has closed. Game Changer will go live on mlb.com/t-mobile, and each day from 10am Eastern Time, fans will be able to vote for one of two game changing moments. The Daily Champion advances to the next day to face a new challenger. Once we're at the final week of the season, fans will vote for one of the top five Daily Champions. The winner is crowned "T-Mobile MLB Game Changer of the Year".
Voting can be submitted using Twitter or Facebook with hashtag #Champion or #Challenger, and users will be entered in to a weekly prize draw. Prizes include game tickets and MLB merchandise as well as T-Mobile devices and accessories.
T-Mo also announced that it's renewed its sponsorship of Bryce Harper and McCutchen as well as partnering with the Minnesota Twins, Pittsburgh Pirates, Seattle Mariners and Washington Nationals, also adding the Tampa Bay Rays and Miami Marlins. It will also be sponsoring the All-Star FanFest for this year and promises a bigger and better even than last year and is slated for July 11-15 in Minneapolis.
Of course, T-Mobile has made the free At Bat subscription official too:
In addition, T-Mobile announced that it is offering its customers free access to the hugely popular MLB.com At Bat and its subscription features for the 2014 MLB season ($19.99 value). At Bat, the official app of MLB, offers premium features such as live home and away radio broadcast feeds, the MLB.TV Game of the Day and up-to-the-moment pitch tracking. Customers can download At Bat through Google Play or the Apple App Store where it is available across all supported Android & iOS smartphones and tablets. 
So there you have it, baseball fans. T-Mobile is increasing its involvement and hoping to bring some great events, deals and MLB flavored experiences throughout the 2014 season. For full details, read the press release.
Source: T-Mobile