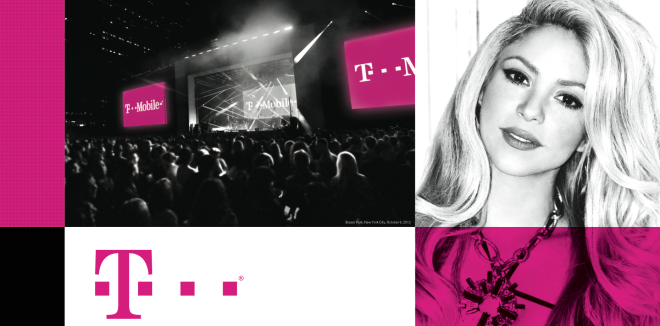 Last October, T-Mobile announced a multi-year partnership with Shakira. As part of the deal, the company supported her "Can't remember to forget you" single launch as well as offering access to an exclusive concert at Bryant Park in New York.
Now, with the launch of her new album just a week ago, T-Mobile is going to be offering even more exclusive content and offers for its customers. First up, an exclusive Q&A with the star behind the scenes in Barcelona:
Alongside the promotional video, T-Mobile will be kitting out 2,500 stores with original creative content, like mural (above) as well as video content, POS and window displays. Also, VEVO T-Mobile takeover videos will be promoted on desktops, mobiles and on YouTube.
In short: She's going to be everywhere.
I guess the most important part of the latest promotional phase for you guys (if you're a fan) is that the company will be offering 50,000 customers a chance to download Shakira's latest album completely free of charge. So, if you haven't already paid-for and downloaded it, hold on to your hats, you might get it for free.