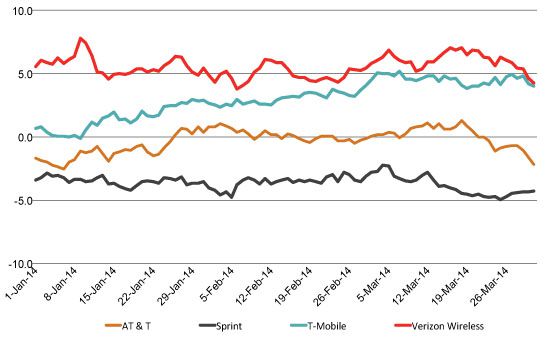 Things have improved drastically for T-Mobile since the Uncarrier movement began last year. In that time, it's shaken up the industry by ditching contracts, offering unlimited data for a great price and rolling out LTE at lightning pace to over 200 million PoPs. But all this is just a great collection of milestones and stats if it doesn't impact the way consumers think. Thankfully, they're in agreement. Not only have subscribers been joining T-Mobile in their millions, but they – in general – view T-Mobile now as being the best value for money alongside Verizon.
"AT&T, Sprint, T-Mobile and Verizon Wireless were measured with YouGov BrandIndex's Value score, which asks respondents, "Does it give good value for what you pay?" All respondents were adults age 18 and over."
YouGov's consumer survey asks which carrier offers the best value for money. And – as you can see from the chart above – T-Mobile and Verizon are pretty much level-pegging. What's more, when asked which carrier they would switch to in the next 6 months, survey takers indicated T-Mobile is the most attractive option.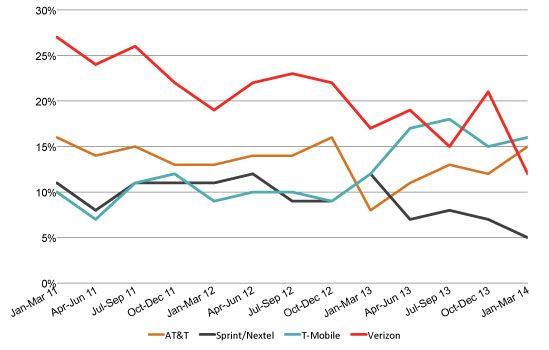 As indicated in the chart immediately above, T-Mobile's attractiveness has improved steadily over the past 12-15 months, while fewer people are likely to switch to Sprint or Verizon than they were this time last year.
As a business, brand perception is everything. There's no good in having the best offers, or promotions if it doesn't reach the customers. If customers jump onboard and don't have a great experience, they don't see it as great value. At the moment, Tmo is ticking all the right boxes for its customers.
Source: BrandIndex