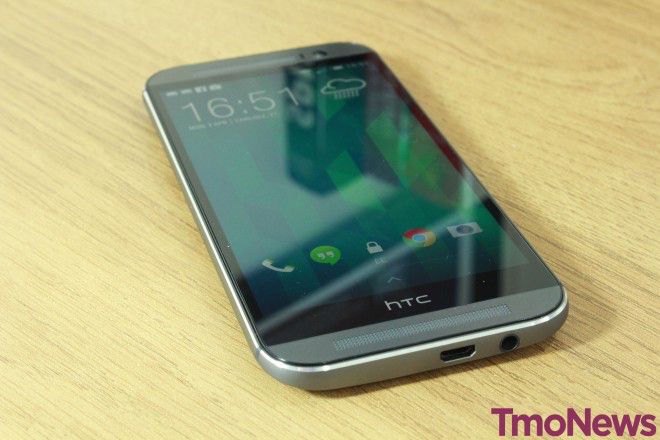 With 2013's HTC One, the Taiwanese manufacturer set the standard for Android device hardware manufacturing and design. Its aluminum unibody paired with awesome components and performance made it last year's best smartphone (in the eyes of many). This year, it's back with a new shape, better performance, better hardware design and a weird camera set-up. But can it hold a light to its predecessor? Absolutely.
It launches in Magenta flavor on April 11, the same day Tmo has chosen to launch its Galaxy S5.
.


Design

Like its predecessor, the One M8 features an almost entirely aluminum body. In fact, 90% of its rear shell is made from the stuff. Gone is last year's polycarbonate binding around the edges, replaced by a much nicer rounded metal finish. The only plastic is the "gaps" needed to separate parts of the external antenna. One strip on the bottom and one on the top on the rear of the device.

I can't overstate how much difference it makes to have rounded all-metal edges over the sharper, more angled edges from last year's model. It feels much better in hand. The back is curved, and depending on which color you go for, you'll either get a hairline brushed metal finish on the Gunmetal Gray, or a more iPhone-esque anodized and almost soft-touch feel (silver/gold). For a phone this size to feel so comfortable in one hand seems ridiculous, but it does.

One area of major improvement is in quality control. Last year, because of the use of plastic and metal and perhaps not enough attention to detail in manufacturing, several units shipped with slight defects in assemble. My own model – for instance – had plastic banding around the edges that wasn't flush with the metal body in several places. Its Micro USB port was off-center in its socket, and the glass panel on the display wasn't perfectly level and had tangible ridges at top and bottom. This time out, I couldn't find a single flaw in fit and finish.

Over to the front, and here is possibly where you see the first flaw (if you want to call it that). There are no capacitive buttons below the display. That would ordinarily be okay, but because the One M8 has its front-facing BoomSound speakers and a thick frame around the display, there's over an inch between the onscreen content and the bottom edge of the device once you get past the on-screen back, home and multitasking buttons. By any calculation, that's a huge gap.

But that's about all I can criticize about the One M8's front design. It looks fantastic. On the top and bottom panels are the, now-iconic, rectangular rows of machined holes covering the front-facing speakers. The front-facing camera sits to the right of the top speaker alongside a pill-shaped sensor.

Dividing opinion is the top edge. In order to incorporate an IR beam, HTC was forced to opt for a transparent covering. Personally, I love the look of the dark plastic top edge. It accentuates the curved shape, and adds a bit of contrast to the otherwise bland, gray finish.

One thing I don't understand is the company's insistence on using a top-mounted power/lock button. In one handed use, it's impossible to reach. The only other 'button' is the volume rocker, neatly placed on the right hand edge below the MicroSD card tray.

As with any device, its design and layout isn't perfect. But my only complaints are very nit-picky, which says to me that HTC has created an amazing piece of hardware. It's solid, well made, brilliantly designed and can survive a few drops (believe me, it's had some – not intentional of course).
.


Display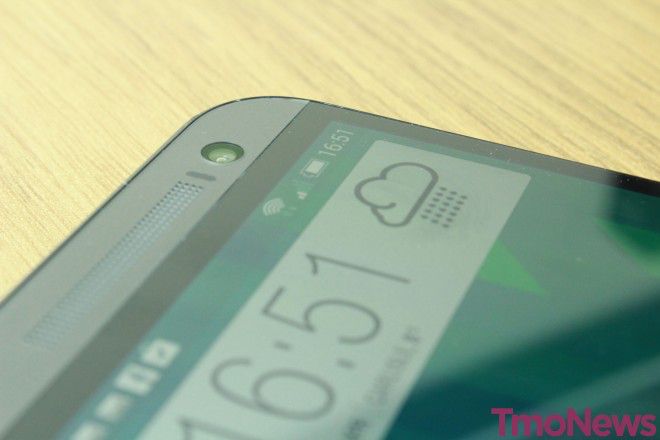 The 5-inch, 1920x1080p SuperLCD 3 display is fantastic. It's sharp, produces vivid and natural colors and deep blacks. It doesn't matter if you're looking at photos, playing games or watching videos, it will impress you. It's big, bright and sharp.
Text is crisp and clear, and white's are pure white. And that doesn't change regardless of what angle you happen to be seeing it from. The viewing angles on this display are nothing short of amazing. Whether I'm looking at it head on, or from the side, white's are white and don't stray towards pink, blue, green or yellow.
I used to be of the opinion that you don't need a big display on a smartphone. In the olden days it meant using a poor quality AMOLED panel with fuzzy text, terrible color reproduction, and even worse viewing angles. LCD just wasn't energy efficient enough, and contrast levels were poor. But over the past couple of years, HTC has shown us just how good they can be. HTC One M8 has one of the best quality displays on the market. What I really love is how close the LCD appears to be to the glass front panel. It's almost as if the content is floating on top of the phone.
Touchscreen sensitivity is admirable too. It responds immediately to any gesture without any noticeable lag or delay.
.


Software

Like many other Android OEMs, HTC has its own custom skin in Sense UI 6. And, as skins go, it's probably one of my favorites. Added bloatware is minimal, and enhancements are mostly centered on the user experience and default apps like weather and clock. BlinkFeed is actually useful too. It sits to the left of your default home screen and updates with your chosen social network feeds throughout the day. What you end up with is something more visually appealing than Twitter, and what gives you more interesting and less spammy updates than what Facebook would serve up naturally. I really like it, and I like that it's not set as a default home screen this time. Of course, you have the option to change that. If you want to.

There are a couple of software elements that take some getting used to. Firstly, the apps drawer scrolls vertically, like Android of old, and not from right to left. Rearranging icon order or placing apps in to folders requires you to tap the options menu and hitting "rearrange apps". You can't just tap and hold and them move icons around.

Another highlighted feature at the event was the motion and gesture controls. Picking your phone up to answer, or double tapping the screen to wake up the phone have worked fairly well in daily use. What I couldn't get used to was that if I moved the phone a certain way – almost always accidentally – the phone would wake up and unlock when I didn't want it to. Thankfully, it's not much of an issue. You can switch it off in the settings.

If HTC Sense really isn't to your liking, there's always the Google Play Edition which runs stock KitKat, but won't be available through T-Mobile channels.
.


Performance + Battery Life

If you're impatient, this is the phone for you. Apps launch instantly. Qualcomm's Snapdragon 801 quad-core processor inside makes light work of everything. Not once have I launched any program, game, app or content and been made to wait. It's so, so fast. So what if it can boost its benchmark scores? In real-life, it's ridiculously fast anyway.

It's not all about the processor power. This beast's connectivity is as fast as it gets too. Its wireless ac compatibility means it'll hook up perfectly with 802.11ac/5GHz Wi-Fi networks and deliver a strong and quick internet connection. Even if I'm in the furthest point away from my home router, upstairs where my iPhone and iPad struggle to maintain a connection, the HTC stays connected and fast. It's also equipped with cat 4 LTE and capable of speeds of up to 150Mbps. Sadly, no such speeds exist in my home town, but I was impressed at how fast it could switch between LTE, HSPA+ and 3G in areas of differing coverage. No matter where I went, I wasn't without a fast internet connection. Unlike my iPhone which seems to take its time switching when I run out of 4G LTE..

One slightly negative point is that the Wi-Fi chip didn't seem to perform consistently. Often times I'd unlock the device to find that it had disconnected from my home network. Unlocking seems to rectify that issue, but it's slightly disconcerting to keep seeing the "?" (Wireless networks available) logo in the status bar most times I look at the phone's lock screen. And, when performing Speed Tests on Wi-Fi I'd get up to my maximum near the 30Mbps mark, and a few minutes later struggle to get past 10-15Mbps despite my iPhone consistently showing speeds between 20-25Mbps the entire time.

As for battery life, it's good. Not mind-blowing, but perfectly acceptable. I can easily get through an entire day's moderate use on a single charge. My pattern recently seems to be about 26-30 hours between charges. I don't use a lot of media on my device. It's predominantly texting, web browsing and reading email. Apologies for using the iPhone as a de facto comparison, but I'm lucky to get 20 hours between charges on my 5s.
.


Camera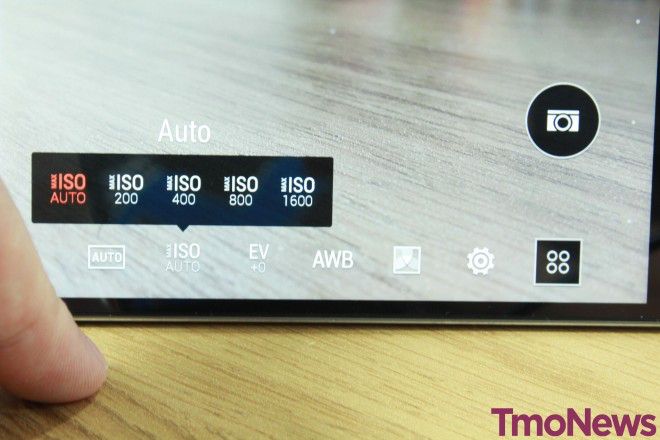 HTC got everyone's attention with its dual camera system well before the official announcement was ever made. After we'd all seen leaks showing them off, speculative guesses were made as to what they could possibly be for. Turns out, it was so you could play around with depth of field. After taking a picture you can change background and foreground focus, or add a 3D parallax effect to your photograph. The problem with it: It doesn't work all that well.
In every single image of the 50+ I've taken, it's never got the foreground image perfectly right. It often blurs the edges, or misses part of the object in the foreground. Blurring isn't smooth, and has an odd jagged appearance on screen. Along with UFocus, the camera has a boatload of other gimmicks.
Perhaps most disappointing is the performance of the UltraPixel sensor in automatic mode. Once again opting for 4-megapixels to increase pixel size and increase lowlight. Once again, producing disappointing results. While most day-to-day photography is decent, it does often struggle in bright light to tone it down and bring a balanced result. And, even though it clearly brings in a lot of light in low-light situations, it also brings in a lot of noise. I ended up with high levels of distortion.
On the plus side, it does let you manually controlling various settings like white balance, exposure, contrast, saturation and sharpness. Results are generally much better when you know what you're doing .To a photographer who doesn't like the iPhone "everything automatic" approach, it's fantastic to have that level of control over your shots. Capturing an image is so fast, sometimes you don't realize it's happened, and you end up taking it again. I'd go as far as to say, it's got the fastest shutter speed I've seen on a mobile device yet. It's virtually instant.
With the camera, I can't help but feel a bit "what if?" What if HTC hadn't focussed any attention on the dual-camera idea and instead spent energy, time and money developing a sensor with the same ability to capture lots of light, but with more pixels to create a sharper image. The camera has the capability of producing great results, but not when you use it in "automatic" mode.
.


Audio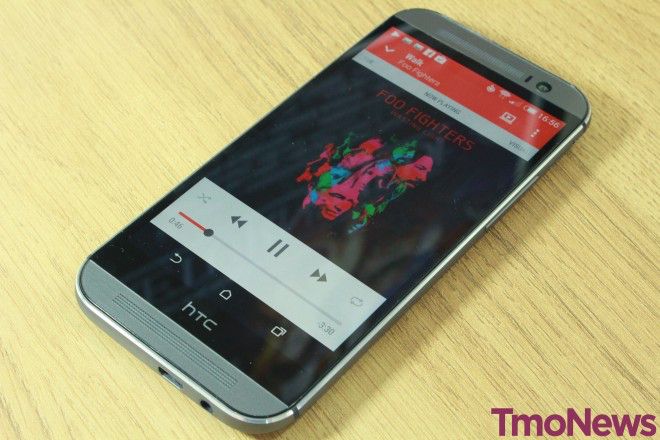 HTC may have ditched the Beats by Dre branding and performance "boost", but BoomSound hasn't lost any of its potency. It's loud, clear and has incredible bass levels. It's the only phone that I could quite happily have listening to music through its own speakers without feeling like I'm missing the whole range. Mid/treble/bass – it's got it all.
Front-facing speakers are the key here too. Watching videos or gaming with stereo speakers aiming right at you takes the experience to a whole new level. It makes media so much more immersive. The sweet spot for audio is around 9-10 inches from your face. And yes, I did measure it.
.


Wrap Up

It has one or two faults, and a hatful of gimmicks, but the HTC One M8 is – in my mind – the best piece of Android-powered hardware on the market. And that's not going to change when the S5 becomes available. Sure, I wish there was just one single fantastic camera on the back, and I'd like it if the bezels and frame were smaller on the front, and that its Wi-Fi was consistently connected, but none of those faults or issues are things that really impact daily use.

It's powerful, fast, solidly and elegantly built and is set to become this year's best smartphone. Unless Apple pulls something magical out of its bag later this year.

The Good
Amazing, solid build quality
BoomSound is awesome
Brilliant display
Fast, responsive
The Bad
Camera could be better
Uncomfortable power/lock button placement
Bezel/frame around the display is far too thick