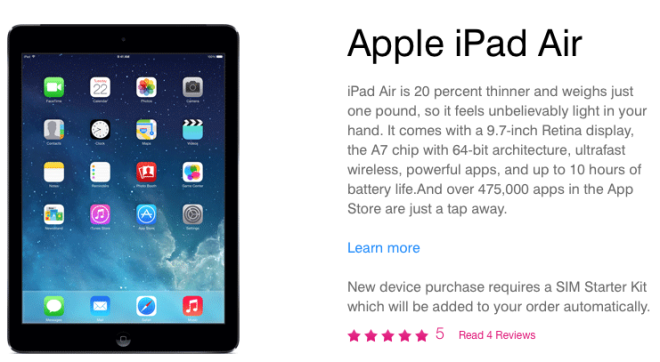 As with most of T-Mobile's announcements there are various questions. They are great offers, but sometimes need a little decoding to make full sense of everything that's just been announced. So let's tackle all the bullet points of today's announcement piece by piece.
.


1. Up to 1.2 GB of free data until the end of 2014

This is a combination of two different offers. Firstly, and to get it out the way, tablet buyers have been able to get 200MB of free data for life when they buy a tablet from T-Mobile since November last year. This offer remains. And regardless of what other offers you take advantage of, you will continue to get 200MB of data per month for life when you buy a tablet. That's not changing.

The extra 1GB is a limited time offer, and is open to new and existing customers. Now here's where it gets a little complicated. The Ts & Cs state: "$10 off 1 GB option; after promotional period (12/31/2014) 1 GB option is $20/mo. $10 discount for qualifying voice service may continue after promotional period. $10 Voice Discount: Requires one other line of post-paid phone service on the same account" 

So, technically, what appears to be happening is that you get $10 off the $20 1GB mobile internet plan that you'd normally get for opening a Mobile Broadband line as well as a voice line, plus, an additional $10 off in this promotion. This is $20 total monthly discount, effectively making the data free. You can't get the free 1GB data without a voice plan, whether that's an existing one or one you sign up for in store when you get your tablet. The extra $10 off your mobile data plan disappears from the end of 2014, but the $10 off, that's been on offer for taking Mobile Broadband with your voice plan might not. Clear as a bell, right?

[Update: The extra $10 off also includes the 3GB and 5GB plans. Meaning that until the end of the year you'll pay $10 and $20 per month for those two respectively. Same terms apply in regards to needing a voice plan alongside the Mobile Broadband plan.] 

This offer is open to customers buying a new tablet, trading one in or bringing their own.
.


2. Discounted tablet prices – with $0 down

Of all today's announcements this appears to be the most clear-cut. Any of T-Mobile's LTE tablets currently on sale will have their prices cut to match those of their Wi-Fi only counterparts. So, a $639 iPad Air Wi-Fi + Cellular model is dropped to $499. As with most of T-Mobile's products, you can opt to pay for it using the company's EIP (Equipment Installment Plan) without paying anything up-front.

There are terms to this though, if you want it at the discounted price, and on EIP, you have to sign up to – at least – a 1GB postpaid mobile data plan. (That's the $20 plan mentioned above, which you could effectively get for free if you have a voice plan too).

Now here's one of the terms worth noting when considering offers 1 and 2: "Balance paid in monthly installments. Must remain on qualifying service in good standing for duration of EIP agreement." 

In essence, that means that as long as you have the EIP installments going out on the tablet, typically for 24 months, you have to stay on your $20 mobile data plan. So between now and the end of December, you get your 1GB for free, but after that you have to keep paying monthly for it until you've settled the balance on your EIP.
.


3. Contract Freedom

Another string to Operation Tablet Freedom's bow is an existing Uncarrier offer, expanded to cover tablets. If you're in contract with another carrier, T-Mobile will pay your ETF when you switch from any of the other carriers. It works the same way as the phone offer. Bring in your old device for trade-in credit, purchase any tablet at the new lower prices with $0 down on EIP, then send in your final bill from your old carrier to T-Mobile and they'll pay your remaining charges.

And that's it in a nutshell. To read up on today's announcement, check the T-Mobile Newsroom or the Operating Tablet Freedom page which includes the full terms and conditions T-Mo's website.

If I've got any of this wrong, I'll update the post.