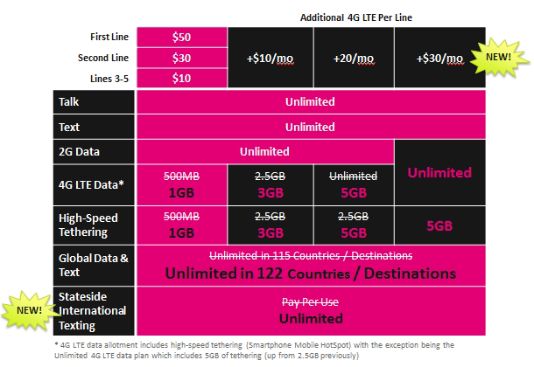 As was announced a couple of weekends ago, T-Mobile is changing its Simple Choice plans from today. As part of the changes, there will now be 4 tiers at $50, $60, $70 and $80. Each of these will share unlimited global roaming texts and data, as well as Stateside international texting. As part of the global roaming, 122 countries and destinations are now included. That's 7 up from the previous 115. New countries/locations include Afghanistan, Guam, Honduras, Macao, Uganda, Canary Islands and San Marino.
I guess the biggest talking point is that the unlimited data plan is now $80 per month, which includes 5GB to use for tethering. The new $70 plan gives 5GB high speed data, $60 gives 3GB (an increase from 2.5GB), while the $50 plan doubles up to give you 1GB.
It's worth noting – and just to repeat was said during the original announcement – that if you're on the current unlimited $70 plan, you won't get switched over to the new one or lose your unlimited allowance. And – from what we've heard from T-Mobile's chiefs on Twitter – if you are on the old plans, you still get the Stateside International Texting as part of it.