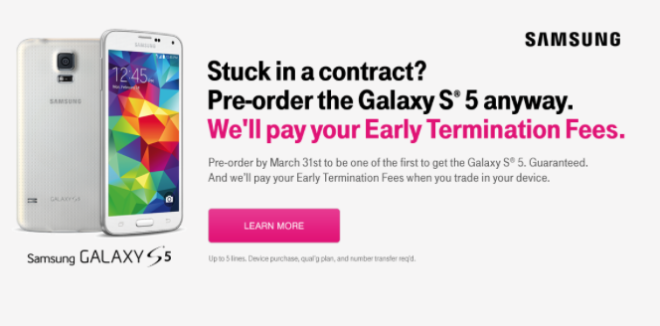 The day has arrived, and you can finally pre-order your next generation Samsung Galaxy S5's from T-Mobile. Of course – you already knew that – but, a healthy reminder's not terrible is it? Pre-orders are open to anyone wanting to switch and take advantage of T-Mobile's Contract Freedom offer, paying off your contract with another carrier, or for any existing customers wanting to use a JUMP! upgrade.
As we mentioned a couple of days ago, if you're among the first to pre-order between today and March 31st, you'll be guaranteed to get it before the April 11 launch day. You can also get $120 off the Galaxy Tab 3 for a limited time.
If you pre-order, the S5 is available for $0 down with 24 monthly payments of $27.50, costing you $660 in total. This – as usual – is 0% APR for well-qualified buyers. You can pre-order online here.
If you're with another carrier, and want to switch to T-Mobile and have them pay off your existing contract (up to $350 plus trade-in on your existing device), hit T-Mobile's "break free" page. It gives you the step-by-step guide on how to do it.