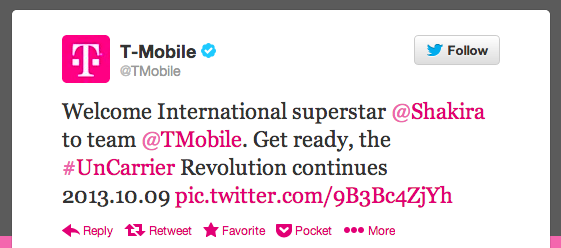 We're a little over 24 hours away from T-Mobile's unveiling of the third phase of their three-pronged attack at changing the face of the wireless industry. With their first two Phases already showing signs of success and investor praise, T-Mobile has big expectations for what is expected to be the third and last phase of UnCarrier for 2013. The announcement of Shakira at a ticketed event as a performer as many speculating that the announcement will in some part contain international news. That's something we've already suggested as rumors have come to our attention that involve free calls around North America.
That being said, there's plenty of speculation about what else T-Mobile could have in store for tomorrow. New rate plans, LTE news, 2G coverage report and so much more are all being discussed as possibilities. Along with that, there have been whispers that T-Mobile will begin moving their entire customer base onto the Simple Choice no-contract rate plan with various special offers to entice a quick move. Could T-Mobile drop or drastically lower the migration fee to bring their contract customer base over quickly? Will T-Mobile remove deposit requirements for service altogether?
Let the speculation begin and let your wish list flow.