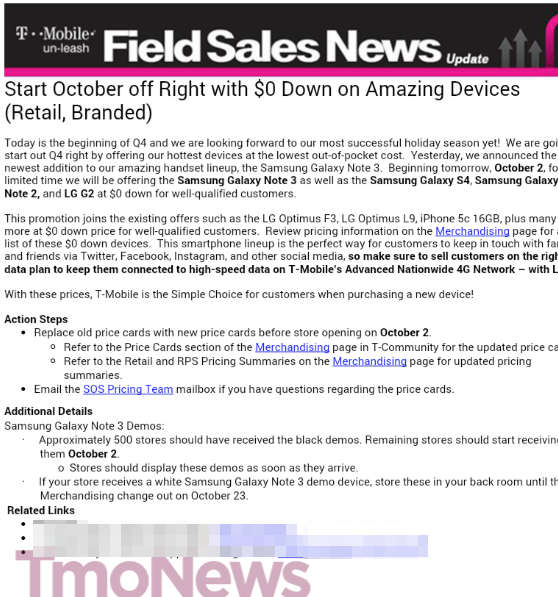 Hello new October sale as an email blast has hit the inbox of T-Mobile employees indicating the start of a new October promotion. The promotion itself is a $0 down sale similar to what we just saw T-Mobile run from July 27th to the first few days of September. The good news, in fact the great news is that the Samsung Galaxy Note 3 will qualify for this deal along with the Galaxy S 4, Galaxy Note II and LG G2. Those devices join the LG Optimus F3, LG Optimus L9 and iPhone 5c 16GB at the $0 down price for "well-qualified" customers.  As a side note, we can also gauge from the image that T-Mobile stores will initially carry the black Galaxy Note 3 with the white model arriving later in October.
"Today is the beginning of Q4 and we are looking forward to our most successful holiday season yet! We are going to start out Q4 right by offering our hottest devices at the lowest out-of-pocket cost. Yesterday we announced the newest addition to our amazing handset lineup, the Samsung Galaxy Note 3. Beginning tomorrow, October 2, for a limited time we will be offering the Samsung Galaxy Note 3 as well as the Samsung Galaxy S 4, Samsung Galaxy Note 2, and LG G2 at $0 down for well-qualified customers."
Yup, that's the Samsung Galaxy Note 3 for $0 down, but with that comes no specific details on the monthly equipment-installment pricing. Currently, T-Mobile's website lists the Galaxy Note 3 at a full retail price of $703.99 which would balance out to about $29 per month for 24 months. That would mark one of the most expensive monthly equipment installment plans T-Mobile has offered to date. Still, that's just taking a stab in the dark at how the pricing will break down but when T-Mobile's website is updated tomorrow we'll know the full monthly installment price with certainty. Regardless, the $0 down offer is hopefully enough to win some new customers from the competition…at least that's the idea.