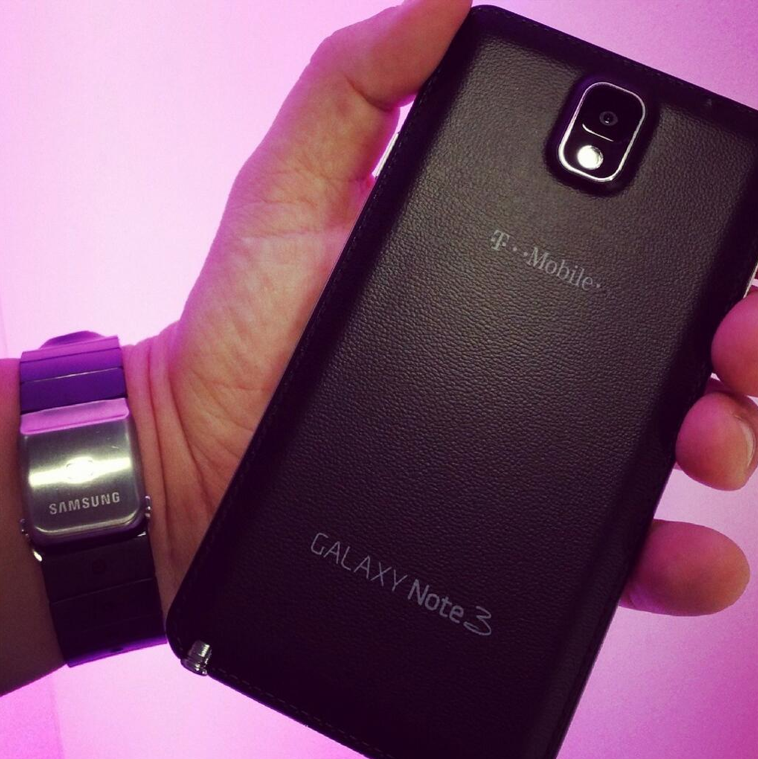 Samsung may have already spoiled the news that the Galaxy Note 3 would arrive on five carriers in the US, but now its the carriers turn to play the PR game. A brief press release issued by T-Mobile officially announces the upcoming arrival of the Galaxy Note 3 and Galaxy Gear "coming soon." As is the norm with T-Mobile flagship handsets, a pre-registration page is available so you can receive email updates as the launch date nears. Or you can just hope we can find the date in the very near future and let you plan the right time to crack open that piggy bank.
No word on price, color or whether T-Mobile will carry the 32GB and/or 64GB variants of the Galaxy Note 3. We're also left wondering what colors T-Mobile will carry for the both devices. Hey Magenta, the women need to be able to plan their outfits so how about some color news? We really just want to know color, price, release date and memory size. That's not asking too much, it it?
Samsung Galaxy Note 3 and Galaxy Gear Coming to T-Mobile

Samsung's next big thing – the Samsung Galaxy Note® 3 – is arriving soon and only T-Mobile, America's Un-carrier, can give customers Samsung innovation combined with wireless' boldest offers out there – the Simple Choice Plan and JUMP!(TM) program. With the success of last year's Note II, the next generation is sure to exceed expectations and we can't wait to bring the stylish premium smartphone to our customers.

The Note 3 isn't the only new Samsung device coming to T-Mobile soon. We're also expecting to launch Galaxy Gear (sold separately) – Samsung's companion smart watch that gives Note 3 customers the freedom to untether themselves from their smartphone and do things that they never thought possible on a wearable mobile device.

Stay tuned for the latest, including when the Note 3 and Galaxy Gear will be available and how much they will cost, by signing up on our pre-registration page.