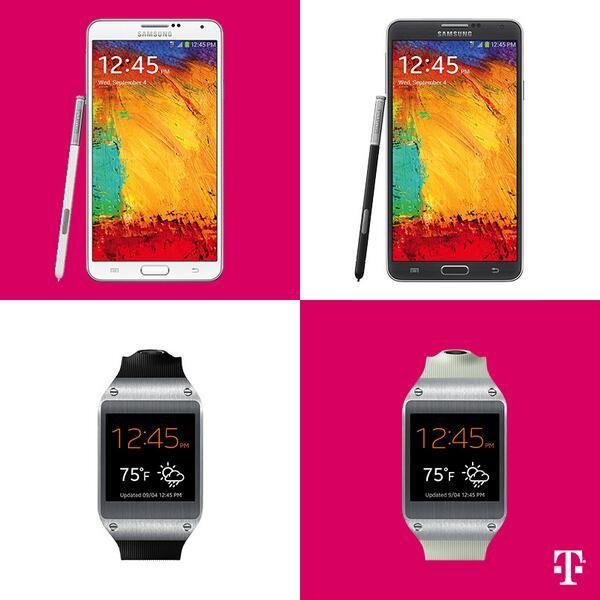 Right on schedule T-Mobile has let loose the Samsung Galaxy Note 3 and Galaxy Gear on the Magenta world. As anticipated last night, the Galaxy Note 3 is available for $0 down thanks to T-Mobile's newest October smartphone sale. The device will add $29.50 to your monthly bill for 24 months so like all of T-Mobile's $0 down sales, it's more mental savings than real savings.
As a quick recap, the Note 3 will feature Android 4.3, a 5.7″ 1080p display, 3GB of RAM, 2.3GHz Quad-core Snapdragon processor, 3200mAh battery, 32GB of built-in memory, LTE, expandable memory via microSD, S Pen functionality, and comes in both black and white online.  According to our report last night, there are hints the white variant may not show up in stores until later this month so if you're clamoring for white, www.t-mobile.com is your best bet.
Also available today is the Samsung Galaxy Note 3 companion accessory, the Galaxy Gear smartwatch. The Gear arrives for $299 and features a host of on-board apps, a 1.63″ Super AMOLED display, and 10-second 720p video. Early reviews have hit the Gear for poor functionality and many reviewers labeled it a "rush to market device" however, if your life is all up in Samsung's camp this very well may be the smartwatch for your holiday shopping list.
Last but not least is the preview of the Galaxy Note 3 embedded below thanks to T-Mobile product manager Des Smith and Chris Pirillo.