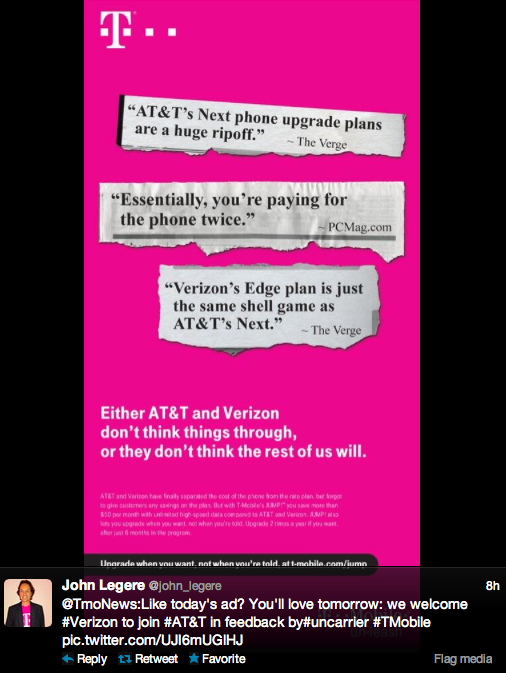 Aside from the fact that T-Mobile CEO John Legere directly tweeted this to me which makes me feel all kinds of appreciated this morning, it's another great ad. The follow up to Monday's attack on AT&T now lumps Verizon's upcoming Edge plan in the the same aggressive boat as AT&T's Next upgrade plan.
"Either AT&T and Verizon don't think things through, or they don't think the rest of us will."
I couldn't have said it better and while I stand by the assertion that T-Mobile's JUMP! plan still has its own set of limitations, it's a night and day offer comparatively.
"AT&T and Verizon have finally separated the cost of the phone from the rate plan, but forgot to give customers any savings on the plan. But with T-Mobile's JUMP! You can save more than $50 per month with unlimited high-speed data compared to AT&T and Verizon. JUMP! also let's you upgrade when you want, not when you're told. Upgrade 2 Times a year if you want, after just 6 months in the program."
So what do you think, is this more aggressive T-Mobile print marketing for the better? I say hell yes.