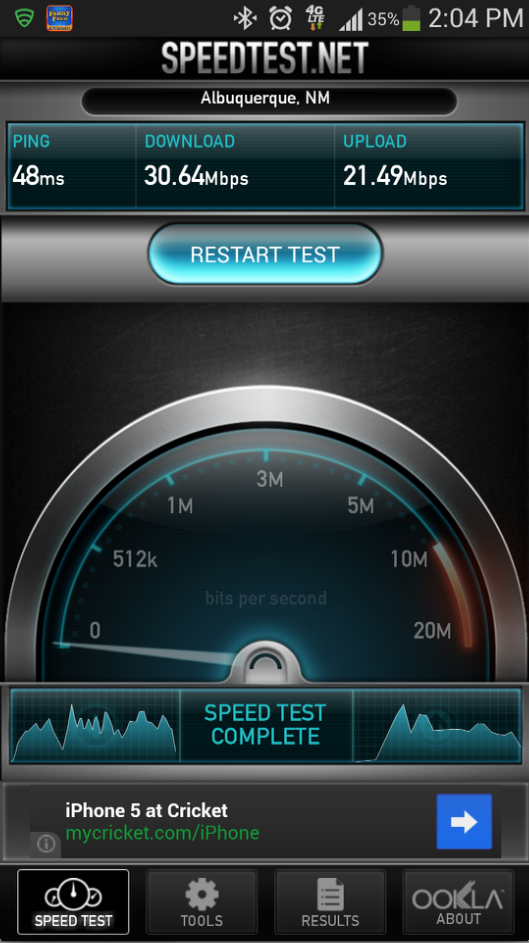 Good Monday morning TmoNews readers and especially to those residents of Chicago, Miami/Fort Lauderdale, Tampa and the Salt Lake City areas as a new group of LTE sightings are coming in fast. No official announcement for any of these markets has been discovered as of this writing, but that's not stopping plenty of T-Mobile customers from spotting the 4G LTE icon on their smartphone displays and hitting up that speed-test app for results. With T-Mobile's goal for 100 million POPs covered before summer's end still only limited to seven official markets, I still expect some sort of announcement in the near future.
Now for the public service reminder that I've offered in these LTE sighting posts: "I wouldn't jump too far ahead and assume that a LTE sighting means an entire market is live. For the moment, we're just happy things are progressing and that more markets appear on the horizon."
Are you seeing LTE on your smartphone today?
Let's recap the list we have for May and June LTE market launches:
Atlanta and Sandy Springs, Marietta,
Austin and Round Rock, San Antonio, San Marcos (May Launch)
Part of the Carolinas – Charlotte, Rock Hill
Chicago and Joliet, Naperville
Cincinnati and Dayton
Cleveland
Connecticut – Bridgeport, Stamford, Norwalk
Columbus and Mentor
Dallas and Fort Worth, Arlington
Denver and Aurora, Broomfield
Detroit and Warren
Honolulu and Maui (May Launch)
Long Island, New York and New Jersey – specific areas unknown
Los Angeles and Pasadena, West Covina, West LA, Metro LA, Burbank, Beverly Hills
Oklahoma City
Orlando
Miami and Fort Lauderdale
Minneapolis and St Paul, Bloomington (May Launch)
New England – Boston, Cambridge
Philadelphia and Camden, Wilmington (May Launch)
Sacramento and Arden, Arcade, Roseville, Fresno
San Diego and Carlsbad, San Marcos
San Francisco and Oakland
Seattle and Tacoma, Bellevue
Tampa
Tulsa – (May Launch)
Phoenix and Tucson (May Launch)