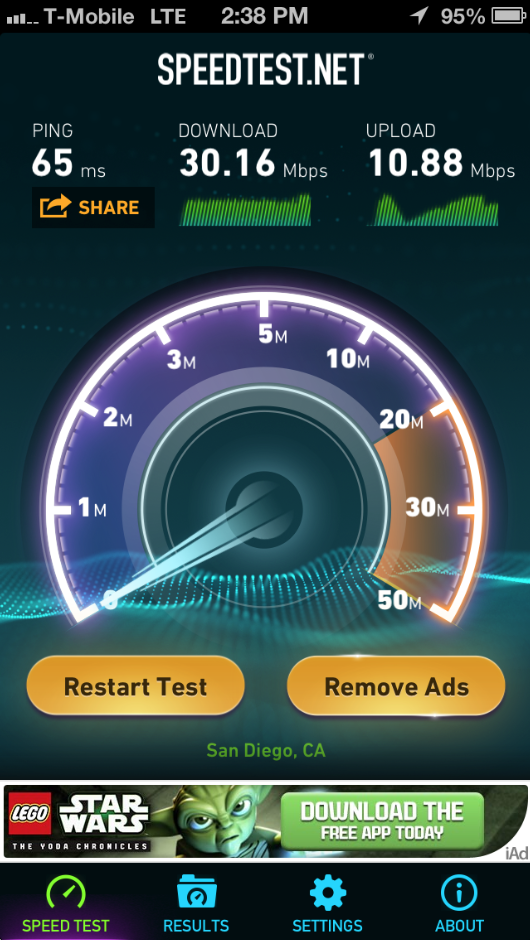 T-Mobile's LTE sightings have ramped up again this week with a host of reports coming out of Dayton and Akron, Ohio; San Diego, Anaheim, Fresno and across San Bernadino county in California. Last but least are a few sightings popping up intermittently out of the Boston area. San Diego is the clear winner here as the lions share of emails I've received since Monday show off plenty of network activity across the area with a number of tests pictured below.
As per our usual warning, these sightings are unofficial and represent what we believe is T-Mobile's "fine tuning" and "testing" stage prior to launch. However, all three of these markets are listed as set to launch before the end of June so there's a good indicator we aren't far off from an official launch. So I wouldn't jump too far ahead and assume that a LTE sighting means an entire market is live.
Am I missing your city?
Let's recap the list we have for May and June LTE market launches:
Atlanta and Sandy Springs, Marietta,
Austin and Round Rock, San Antonio, San Marcos (May Launch)
Part of the Carolinas – Charlotte, Rock Hill
Chicago and Joliet, Naperville
Cincinnati and Dayton
Cleveland
Connecticut – Bridgeport, Stamford, Norwalk
Columbus and Mentor
Dallas and Fort Worth, Arlington
Denver and Aurora, Broomfield
Detroit and Warren
Honolulu and Maui (May Launch)
Long Island, New York and New Jersey – specific areas unknown
Los Angeles and Pasadena, West Covina, West LA, Metro LA, Burbank, Beverly Hills
Oklahoma City
Orlando
Miami and Fort Lauderdale
Minneapolis and St Paul, Bloomington (May Launch)
New England – Boston, Cambridge
Philadelphia and Camden, Wilmington (May Launch)
Sacramento and Arden, Arcade, Roseville, Fresno
San Diego and Carlsbad, San Marcos
San Francisco and Oakland
Seattle and Tacoma, Bellevue
Tampa
Tulsa – (May Launch)
Phoenix and Tucson (May Launch)