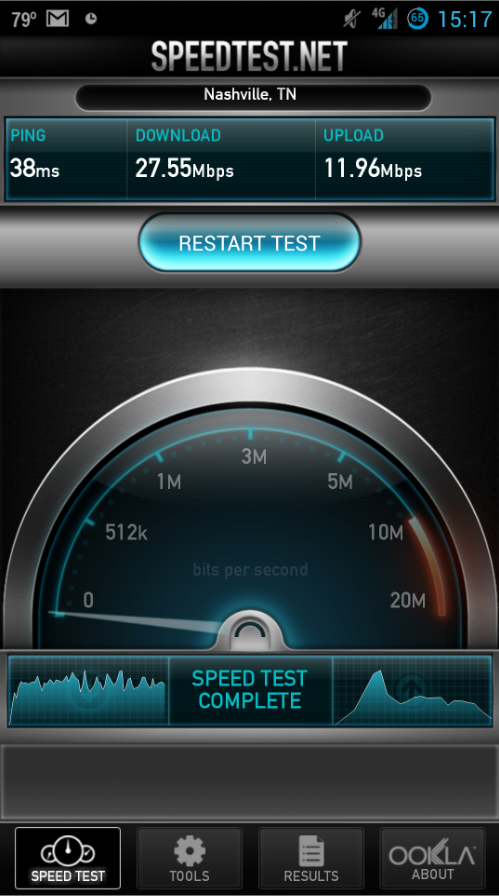 It's another day in T-Mobile land and you know what that means, another group of LTE sightings. With yesterday's activity, T-Mobile's LTE network is clearly stepping into another gear as these sightings are steadily coming in from every geographic area we've posted. This morning the honor goes to Atlanta, Georgia; Birmingham, Alabama; multiple cities in Puerto Rico, Orlando/Kissimmee, Florida; Salem, North Carolina and Cleveland, Ohio. I should also throw Pittsburgh in as a few sightings have also come my way in the last 24 hours.
I expect an announcement any day now from T-Mobile as there have been far too many sightings to completely ignore that at least some of these cities are perhaps soft launched. With the window for T-Mobile to hit their promised 100 million POPs covered by summers end narrowly approaching, someone, somewhere must be crafting an announcement. At least, I hope someone, somewhere is doing exactly that.
Now for the public service reminder that I continually offer in these LTE sighting posts: "I wouldn't jump too far ahead and assume that a LTE sighting means an entire market is live. For the moment, we're just happy things are progressing and that more markets appear on the horizon."
Are you seeing LTE on your smartphone today?
Let's recap the list we have for May and June LTE market launches:
Atlanta and Sandy Springs, Marietta,
Austin and Round Rock, San Antonio, San Marcos (May Launch)
Part of the Carolinas – Charlotte, Rock Hill
Chicago and Joliet, Naperville
Cincinnati and Dayton
Cleveland
Connecticut – Bridgeport, Stamford, Norwalk
Columbus and Mentor
Dallas and Fort Worth, Arlington
Denver and Aurora, Broomfield
Detroit and Warren
Honolulu and Maui (May Launch)
Long Island, New York and New Jersey – specific areas unknown
Los Angeles and Pasadena, West Covina, West LA, Metro LA, Burbank, Beverly Hills
Oklahoma City
Orlando
Miami and Fort Lauderdale
Minneapolis and St Paul, Bloomington (May Launch)
New England – Boston, Cambridge
Philadelphia and Camden, Wilmington (May Launch)
Sacramento and Arden, Arcade, Roseville, Fresno
San Diego and Carlsbad, San Marcos
San Francisco and Oakland
Seattle and Tacoma, Bellevue
Tampa
Tulsa – (May Launch)
Phoenix and Tucson (May Launch)