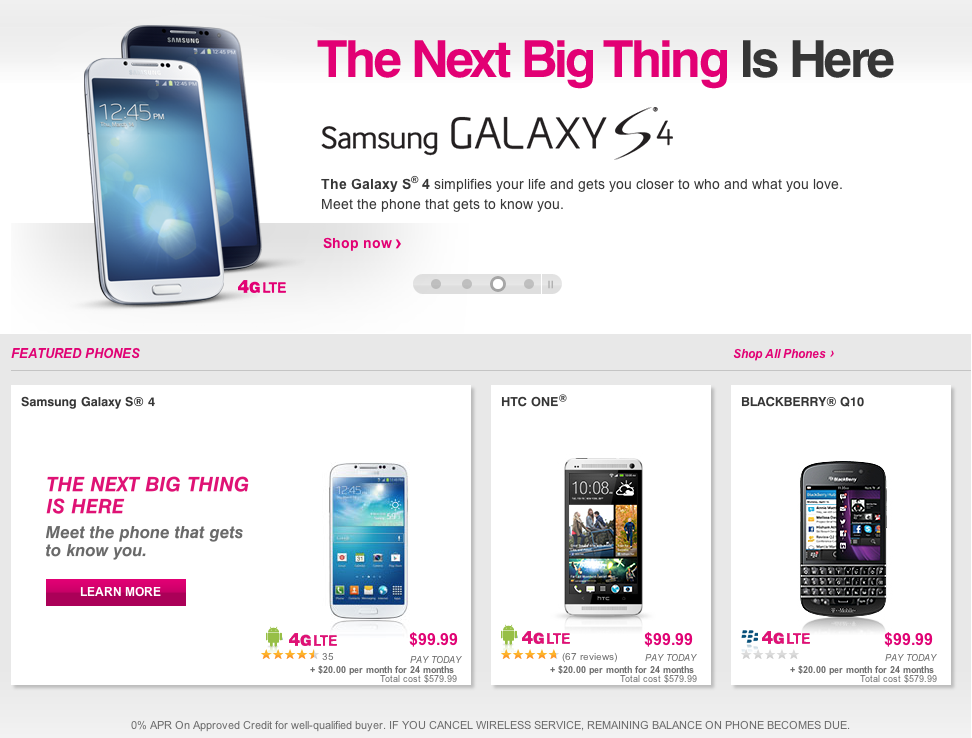 A thought occurred to me shortly after the Sony Xperia Z announcement yesterday (yes, I have thoughts!) and it circled around the idea that in the last 12 months T-Mobile has come completely around with flagship handsets. Okay, maybe 12 months isn't an exact timeframe and I honestly don't think the timeframe itself is what matters…just the idea that some time ago we spent a lot of time looking longingly at other carriers and their exclusive flagship deals.
That's not to say that T-Mobile still isn't missing a few devices here or there and until the Lumia 925 is actually on store-shelves, T-Mobile still lacks a quality Windows Phone 8 device. However, with the best that Android has to offer in the Galaxy S 4, HTC One and Sony Xperia Z, we're really just missing something from LG and Motorola. Edit: In my first draft I left Motorola out entirely, that shows just how long its been since a Motorola device popped up on T-Mobile. 
This is a very short op-ed and it's more just a single thought I had as I looked back at the T-Mobile from a year ago and the T-Mobile from today. Yes, there's still plenty of work to be done to restore the company to the customer service glory of old, or the LTE rollout needing some sort of official announcement for T-Mobile to hit its promised 100 million POPs by summers end. Still, I'm proud of what the UNcarrier is doing now and you can take this as a champion post where you ignore the idea that T-Mobile can do no wrong…I agree that they still plenty to fix as I mention above.
However, this is a T-Mobile that is making an effort to get flagship devices and that's a big change from a year ago when we were content with a full line of Galaxy devices, but lacked HTC, Sony and Nokia flagship smartphones. LG flagships may or may not come in time, but with the Xperia Z, Galaxy S 4, HTC One, iPhone 5, BlackBerry Z10 and Lumia 925 you've finally got a quality set of smartphone options on T-Mobile and that's something we can all get behind.