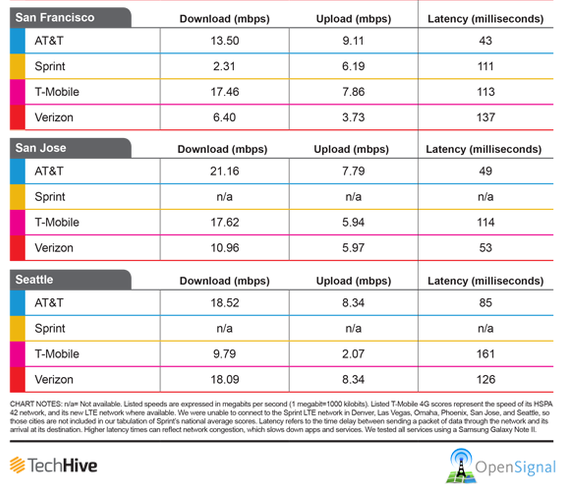 The combination of T-Mobile's 4G HSPA+ and LTE networks showed up strong in a new TechHive national survey of the nations four largest networks. T-Mobile's LTE network is still in its infancy with only seven "confirmed" cities: Baltimore, Houston, Kansas City, Las Vegas, Phoenix, San Jose and Washington D.C. Of course we've already seen plenty of LTE coverage start to light up in cities like New York, Minneapolis, Los Angeles and Detroit, but only seven cities are officially live. T-Mobile's network remains on track for 100 million POPs covered by the end of summer and 200 million covered by years end.
For the purposes of their study, both the HSPA+ and LTE networks (where available) were accepted as "4G." Given that, T-Mobile's average download speed of about 9Mbps in 20 test cities placed it as a second place finisher tied with Verizon.
Average upload speeds were a different matter as T-Mobile placed lowest among the four carriers at 2.65Mbps. Latency was another tough finish for T-Mobile at 124 milliseconds average, though that's still responsive enough to use real-time data services.
Things get a little better when the tests are focused solely on T-Mobile's LTE network with 653 speed tests performed in the seven cities T-Mobile's LTE network is live. The LTE network clicked an average of 14.94Mbps on the download side and 6.86Mbps on the upload. Latency was vastly improved at 54 milliseconds, which may be a sign of a limited number of devices running on the network.
According to the survey, T-Mobile's fastest cities are San Francisco and San Jose, with Phoenix hanging right up at the top.
Still, things for T-Mobile customers are far better than Sprint customers can brag about. Sprint's average download speed was less than half the speed of T-Mobile's third-place finish and a third of winner AT&T's average download speed.
The TechHive survey speed test results come at a time when T-Mobile's LTE network is chugging along to keep up with the influx of CTIA attendees in Las Vegas. According to RootMetrics, T-Mobile's LTE network is averaging download speeds of 12.5Mbps and keeping pace with Verizon's LTE network. By comparison Verizon is showing average download speeds of 13.9Mbps against AT&T's 18.7Mbps.
"T-Mobile's 12.5 Mbps LTE-only average download speed ran almost neck-and-neck with Verizon's Las Vegas LTE network," writes Patrick Linder, communications manager at RootMetrics, in a special report. "In other words, the nation's youngest LTE network performed nearly as well as the nation's most mature LTE network in our Las Vegas average download speed tests."
For the full 20 city breakdown or closer look at T-Mobile's Las Vegas LTE network hit the links below.