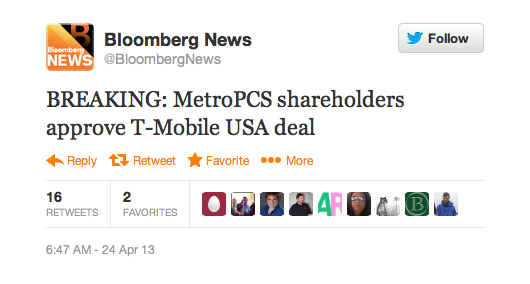 Bloomberg is reporting that MetroPCS shareholders have spoken, and the deal has received their blessing. The vote marked the last in a series of steps both companies were going through in order to finalize the combination of the two companies. With all regulatory approvals behind them, the deal is now free to close and add 9 million MetroPCS customers to the T-Mobile ranks.
With the original vote pushed back after Deutsche Telekom sweetened the deal, MetroPCS shareholders met this morning and approved all 12 measures thereby approving the merger.
P.S. No, T-Metro isn't the company name, just the fun joint name, kind of like Brangelina.
Deutsche Telekom and T-Mobile USA applaud MetroPCS Stockholder Approval of T-Mobile-MetroPCS Combination

At a special meeting in Richardson, Texas, the stockholders of MetroPCS approved the agreement with Deutsche Telekom to combine T-Mobile USA with their company. Deutsche Telekom applauds the shareholders' decision, which clears the path for a new, combined, larger and more powerful mobile services provider in the USA.

"This is a major step for Deutsche Telekom," said René Obermann, CEO of Deutsche Telekom Group. "We have accomplished a lot in the USA recently, for example our network modernization and the new T-Mobile USA management team, which has seen considerable success. And we have finalized the contracts with Apple and MetroPCS. The merger with MetroPCS is extremely important, since it enables us to be more aggressive in the USA."

"The merger adds valuable tailwind to our Uncarrier Strategy in the USA," said Timotheus Höttges, CFO of Deutsche Telekom and Chairman of the newly-formed company. "We have radically changed our business model and launched drastically simplified tariffs. Together with MetroPCS, we will make considerable improvements to our competitive position with our combined state-of-the-art network, more powerful sales model and top devices like the Apple iPhone 5 and the Samsung Galaxy S4."

With today's approval by MetroPCS' stockholders, all the requisite approvals required to complete the proposed combination have been received and the transaction is expected to close by May 1, 2013. In line with the closing, the consolidation of the new company into the Deutsche Telekom Group will be effective as of May 1, 2013.
Developing…Stay tuned as more details arrive!