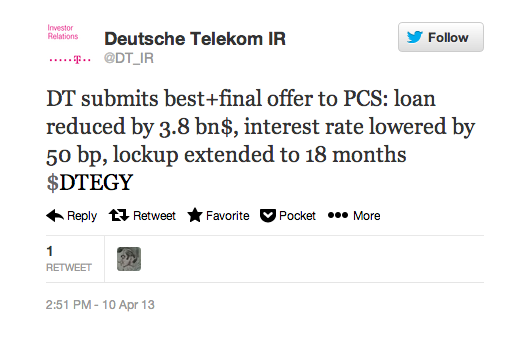 Update: A new MetroPCS press release just hit the wires announcing the company has decided to push back the date of the shareholder vote to April 24th. 
The decision to postpone the Special Meeting was mutually agreed upon by Deutsche Telekom and MetroPCS to allow MetroPCS stockholders additional time to, subject to approval by the MetroPCS board of directors, consider a proposal from Deutsche Telekom to revise the business combination agreement, dated October 3, 2012, among MetroPCS and Deutsche Telekom AG. 
As shareholder pressure continued to mount and facing a vote that continued to look like it wouldn't swing in their favor, Deutsche Telekom improved its offer for MetroPCS.
In what DT is calling its "best and final offer" for MetroPCS, Deutsche Telekom will cut the loans that it will be owed by $3.8 billion, to $11.2 billion and lower the interest rate on the date. The Deutsche Telekom offer is said to "significantly increase the equity value of the combined company" the company wrote via email. The lock-up period during which DT is prohibited from selling public shares has been extended by 12 months to 18 months after the close of the deal.
"This lower rate reflects the new capital structure of the combined company, the improved capital markets environment in recent months, and the interest rate level of MetroPCS newly issued USD 3.5 billion of bonds priced in March," Deutsche Telekom said.
Deutsche Telekom said other terms of the deal would stay the same and Friday's vote would go ahead as scheduled. Deutsche Telekom did not increase the $1.5 billion cash offer and 26% stake in the combined company MetroPCS shareholders would have.
Stay tuned for updated quotes when available from MetroPCS shareholders.
Developing…