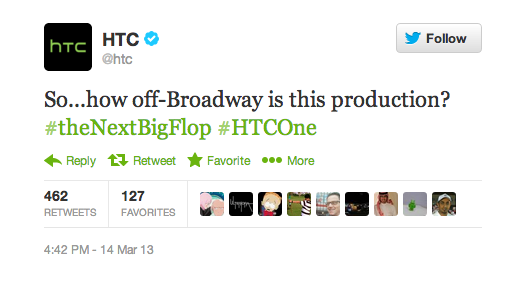 There's going to be plenty of healthy debate in the coming weeks as to which of the two Android manufacturers has the better flagship device. Is it Samsung with the newly introduced Galaxy S 4 or HTC with the aluminum based HTC One? Well, for its part HTC isn't wasting a moment of opportunity to take mud-slinging shots as its largest competitor as a tweet during the middle of Samsung's Broadway style musical intro of the S 4 asked just "how off-Broadway is this production?
On its own that would be pretty comical, but the comments from HTC President Jason MacKenzie really take the snark to another level. "I went from laughing to actually feeling embarrassed at some of the acting," MacKenzie told CNET. MacKenzie wasn't finished either, as he continued to talk up the HTC One and its overall position against the Galaxy S 4. "Watching the presentation, it looks like they invested a lot in marketing instead of innovation," he said.
Samsung telecommunication director of marketing for America smartly refused to take the bait, instead choosing to let his company's device do the talking. "Everybody is entitled to their opinion."
BUT WAIT
HTC took it to yet another notch with the release of a statement attributed to Chief Marketing Officer Ben Ho calling the Galaxy S 4 "more of the same.
"With a continuation of a plastic body, and a larger screen being the most obvious physical change, Samsung's new Galaxy pales in comparison to the all-aluminum unibody HTC One.

"This is more of the same. HTC remains the best option for those people looking for the best technology wrapped in premium design. Our customers want something different from the mainstream, who appear to be the target for the Galaxy.

"Our customers want original cutting-edge technology, mouth-watering design and a premium feel from their mobiles, which is why we created the HTC One."
I guess HTC is done taking table scraps from Samsung in the Android pie, especially as the company trolled the Samsung line at Radio City last night with hot chocolate, snacks and bottled water all branded with "HTC One." Clever HTC, very clever.