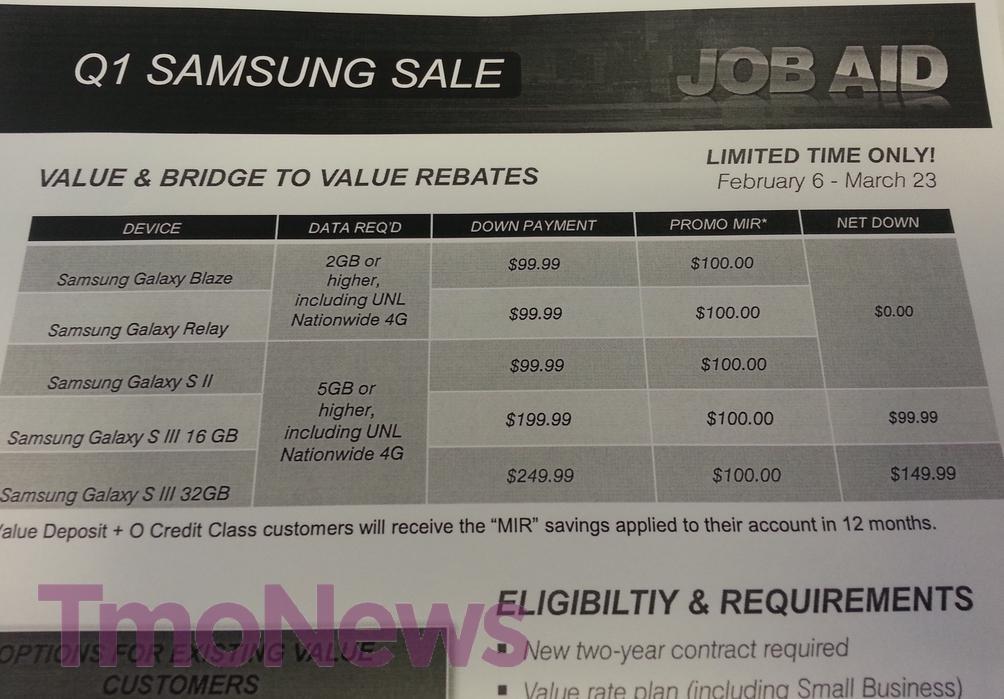 With word whispering down that T-Mobile's rumored Valentine's Day sale may have been canceled in favor of a more "important" sale in March, comes word that a new Samsung special offer will take place. Beginning Wednesday, February 6th and running through March 23rd, T-Mobile will offer special savings on the Galaxy Blaze, Galaxy Relay, Galaxy S II and Galaxy S III 16GB and 32GB. Conspicuously absent is the Galaxy Note II, but that seems to be par for the course with these deals.
According to the image, a two-year contract is required, along with a qualifying data feature. Classic Family Plan customers looking to make the move to Value Plans can take advantage of T-Mobile's "Bridge to Value" program and qualify for the Value rebate amounts. The Samsung Galaxy S III requires a data plan of 5GB or higher, including the nationwide unlimited 4G data plan. Customers will have to meet all eligibility "criteria" to qualify for the Samsung sale mail-in rebate.
Anyone think this offer is for them?