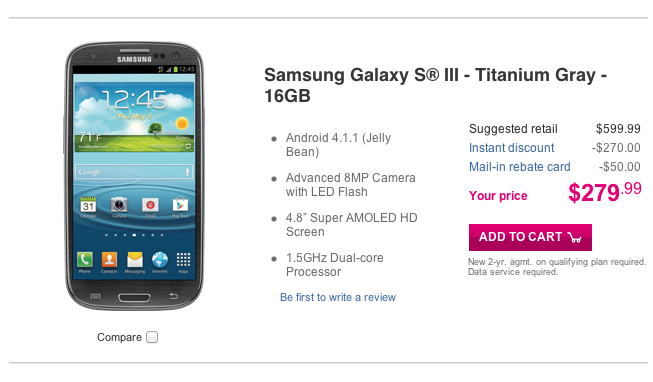 Update: T-Mobile has confirmed the Titanium Gray Galaxy S III is an HSPA+ 42Mbps device. 
As expected, T-Mobile has released a 16GB Titanium Gray Samsung Galaxy S III to the world. Word has it most T-Mobile owned retail stores have already received their inventory of the device and I finally caught the device on T-Mobile's website this morning. Perhaps it was on my end, but I glanced at the website a few times yesterday and didn't see it listed as available.
Regardless, the 16GB Titanium Gray replaces the 16GB Pebble Blue model, which will not receive replenished inventory. The 16GB Marble White model will continue to be available as well. However, the 32GB Pebble Blue model will continue to be available for purchase through T-Mobile's website.
Along with T-Mobile's own retail locations, national retail and authorized T-Mobile dealers should also have the Titanium Gray model available to sell as well. No changes to pricing were announced.