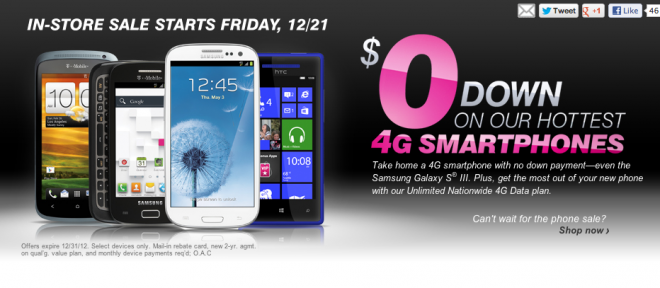 A public service announcement for all you last-minute shoppers out there as T-Mobile's "Zero Down" sale kicks off today and runs though the end of the year. The deal lasts through December 31st and offers some of the T-Mobile's most popular 4G devices for a $0.00 down payment on qualifying Unlimited Value and Unlimited Nationwide 4G data plans. This offer is good for new customers as well as customers who wish to make the transition over to the Value Plan model.
Devices like the Samsung Galaxy S III, Windows Phone 8X and Nexus 4 are all up for grabs with this special sale with zero down after mail-in rebate. The Galaxy Note II is also for sale, ringing in at $99.99 net down payment after mail-in rebate.
You can check out the full list of devices on sale at the T-Mobile link below.