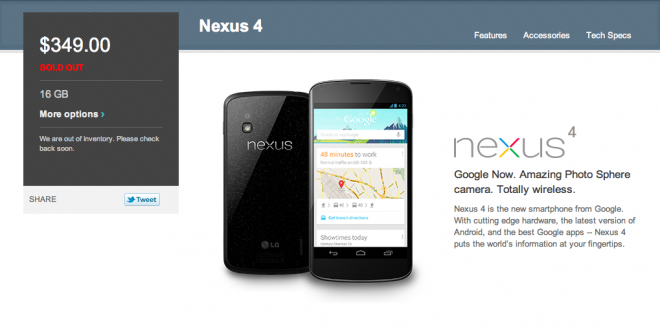 Quick Update: Around 4:40pm EST, Google Play started showing this message: "Google Play is currently experiencing very high traffic. Nexus 4 is not sold out and will still be available for purchase. Please try again shortly. Thank you for your patience." In other words, keep trying!
It took just a matter of minutes, but both 8GB and 16GB Nexus 4 smartphones are already sold out as Google once again underestimates the sheer number of orders coming in. If you didn't get it the first time and if you didn't get it the second time, there's no telling when Google will offer up a third batch. Current shipping times hover around 4-5 weeks for the 8GB and 1-2 weeks for the 16GB.
T-Mobile still has the 16GB Nexus 4 in stock through T-Mobile.com, though existing T-Mobile customers are seemingly unable to upgrade through My T-Mobile.
Did you get your order in this time around?