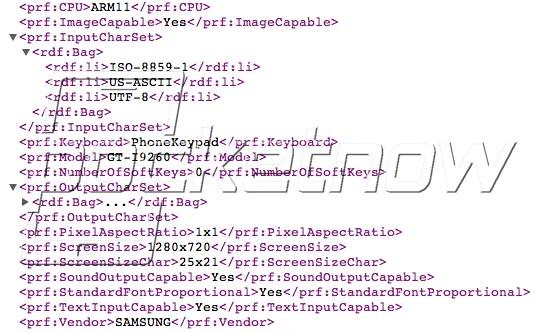 Note: While this rumor, or model number doesn't do much to hint at anything T-Mobile specific, we're hopeful that a new Galaxy Nexus will continue the pentaband capability of the current model, providing T-Mobile users anunlocked device just waiting for their SIM card. 
Rumors continue to fly around the next Galaxy Nexus smartphone (s) and a new User Agent Profile may be the best evidence a Galaxy Nexus successor is on the horizon. Samsung GT-i9260 sports a resolution of 720 x 1280, and an ARM 11 processor. The i9260 appears likely as a Galaxy Nexus successor as the current Galaxy Nexus is designated as i9250, so the small step in model numbers seems like a logical succession.
Unfortunately, details are slim as a broader list of specs in the User Agent Profile is absent, and the ARM 11 processor, which sounds outdated, is often used by Samsung as a placeholder on these pages. On a separate note, it could also reference the ARM Cortex-A11, which would be a step up from the current Galaxy Nexus dual-core 1.2 GHz Cortex-A9. Initial rumors had hinted at a 1.5GHz dual-core A9 CPU, so at this point we're still keeping our hopes up for a major upgrade in processor speed.
For now, the i9260 poses a few questions, including just how big of an upgrade will it be from the current model Galaxy Nexus? Will it hit store shelves under the name "Galaxy Premier," referenced in another document obtained by Pocket Now.
While we wait for confirmation from Google, Samsung or another manufacturer, what do you want in a Galaxy Nexus successor? What would it take to get you to buy it no questions asked hardware wise?