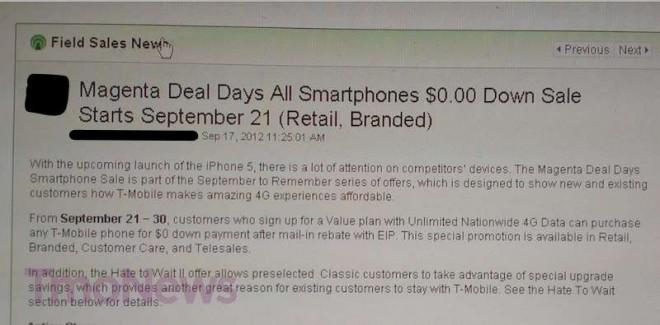 Note: As with all pieces of early information, we don't have a complete picture of the "Magenta Deal Days" T-Mobile will start running this Friday, so stay tuned to the site as we gather more intel and piece everything together!
I'll be the first to admit that I had higher expectations for T-Mobile's "All Hands Day," otherwise known as "Magenta Deal Days" set to coincide with the launch of the iPhone 5. We had high hopes that T-Mobile might go all-in with a price reduction on the Galaxy S III, easily the biggest competition the iPhone 5 has on the market.
So, what is the deal going on from September 21st to September 30th?
"Customers who sign up for a Value Plan with Unlimited Nationwide 4G Data can purchase any T-Mobile phone for $0 down payment after mail-in rebate with EIP. This special promotion is available in Retail, Branded, Customer Care and Telesales."
This offer will include Classic to Value Plan conversions, new and add-a-line activations on the Unlimited Nationwide 4G Data rate plan. We were told the 5GB and 10GB Value Plan lines are eligible as well, but haven't been able to confirm that.
The "Hate to Wait II" promotion will offer more than 1 million Classic/Legacy customers between 15-21 month the same pricing as new customers would receive. This offer will run from the middle of September and end in mid October. This is the kind of deal T-Mobile should be running, and a way to easily earn some good favor with existing customers.
So what do you think? Enough to help combat the iPhone 5 launch or just the tip of the Iceberg?