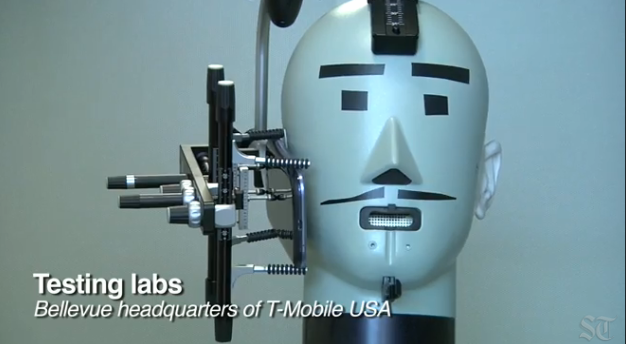 Like all wireless carriers, T-Mobile puts their devices through a series of endurance and performance tests before they are released to the public. In a brand new video, T-Mobile Senior Director of Network and Device Quality Assurance Kathy Barnes is showing us just a few of the steps T-Mobile takes to make sure products released to the customer pass a grueling set of requirements.
As devices enter the test facility, T-Mobile will test for background noise while driving; 3 meter, 1 meter and 1/2 meter tumbler and drop tests to look for manufacturing or device defects; how a device handles liquid as well as a capacitive screen test exclusive to T-Mobile indicating how well a device will handle being operated with the human finger.
Based on the results, T-Mobile will share details from their testing with hardware manufacturers, and require them to fix any problems discovered by T-Mobile. Often times this can lead to a delay in the release of an anticipated product, a problem Barnes admits isn't her most favorite of activities.
"I'm not always the most popular person in the room when I have to do that," she said.
As T-Mobile celebrates its 10 year anniversary, the company will hold a series of employee meetings next week (we believe the unlocked iPhone will be discussed here) as well as the release of its unlimited, 4G data plan.
"We look forward to the next 10 years and bringing new innovations, like our 4G data plans, to the market," said Brad Duea, T-Mobile Senior Vice President of Product Management.
The video is right around three minutes and forty-five seconds and a pretty interesting, if not brief look at how wireless carriers test out devices before releasing them to the world.