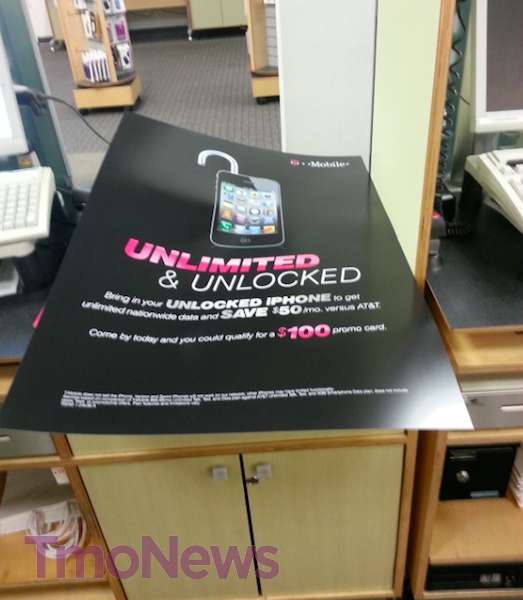 I wouldn't say that T-Mobile is trying to riding today's iPhone wave per se, that would actually require them to carry the next-generation iPhone product, which unfortunately they won't do. However, today does mark the beginning of their marketing efforts to attract unlocked iPhone 4S owners over to the Magenta network with the promise of "true" Unlimited Data and plenty of savings over AT&T.
As it stands, T-Mobile retail stores will begin receiving their iPhone 4S demo units running on T-Mobile's network starting September 15th. Demo phones are allotted for one per store location, and are to be used for training and customer demonstrations only.
For now, be on the lookout for these posters and hopefully a much stronger marketing campaign to go with them as T-Mobile has their work cut out for them as they skip yet another iPhone launch. We can only hope that unlimited data and Magenta-level savings are given enough marketing muscle to  attract those seeking the iPhone elsewhere. T-Mobile certainly has their work cut out for them.
If you're looking to grab an unlocked iPhone 5 (when available) to use on T-Mobile's network, you are going to have to wait until at least Mid-October when T-Mobile hopes to have NANO-SIM cards available to offer customers. The NANO-SIM Apple unveiled today with the iPhone 5 is the first of its kind and no other phone currently available uses the same SIM card technology. According to T-Mobile's @tmobilehelp Twitter account and support forums, they are looking to have these SIM cards available around mid-October.
For the record, the iPhone 5 will work on T-Mobile's future refarmed 1900PCS HSPA+ band and their future LTE network on the 1700 AWS band.