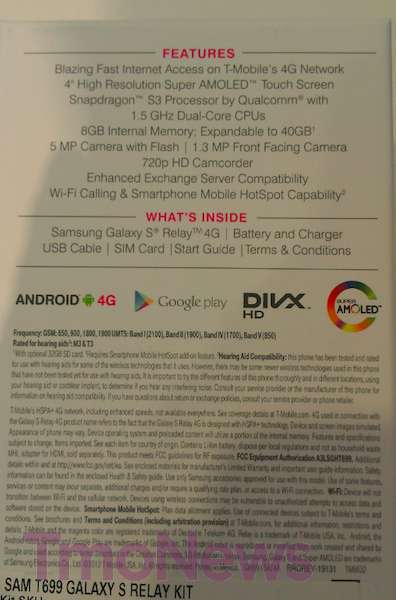 Updated Quote from T-Mobile: The Samsung Galaxy S Relay 4G will have a 1.5-GHz Dual-Core Qualcomm® Snapdragon™ S4 processor.  We're making updates to the Galaxy S Relay 4G boxes in real time, but all devices will have the S4 processor.
Here we are again, back at the drawing board with the Galaxy S Relay 4G and a game of internal processor musical chairs. After speaking with T-Mobile yesterday and after a series of triple checks, we were told convincingly so that the Relay 4G sported an S4 processor inside. We took that as a positive sign, posted it and ran with it as great news.
Except, here we are again with a brand new image of the Galaxy S Relay 4G retail box and what does it say — Snapdragon S3. Honestly, what is going on? I've pinged T-Mobile yet again to yet again find something definitive even as Samsung's website still hints at the Snapdragon S4 processor as MSM8260A.
I wish I could say I had a final answer and I thought I did yesterday, so, with conflicting intel from Samsung and T-Mobile, we're back into the "we don't have any idea which processor is inside this phone anymore" position.