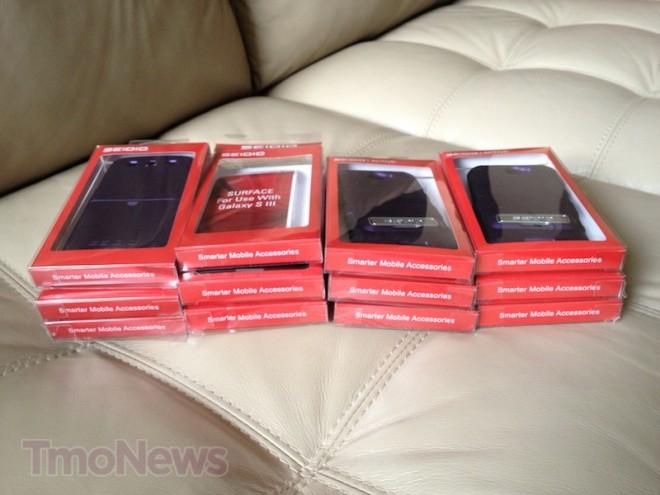 Update: Remember everyone, the contest ended last night at midnight so any submissions from today will not be counted! I'll annocue the winners on Tuesday!
It's time for another giveaway thanks to our friends at Seidio and we've got 6 Active cases for the HTC One S and 6 Surface cases for the Samsung Galaxy S III. We've got Black, Amethyst and Royal Blue for the One S and Black, Purple and Garnet Red for the Galaxy S III. Jealous that AT&T is getting a special edition Red Galaxy S III? Don't be, just put a case on it.
I've been using one the Garnet Red cases on my Galaxy S III for the past week and it's wonderful. I expressed some "unhappiness" with the size of the Galaxy S III in my review and strangely enough, the case actually makes it feel more comfortable in my hand. I've honestly got nothing but good things to say about Seidio products and this Surface case in particular has absolutely made using the Galaxy S III more enjoyable for me. With durable plastic and soft-touch coating, the look "enhances the Galaxy S III without attracting lint." It's adds very little bulk, protects the lense of the camera and leaves access to all ports unhindered. All in all, I've got nothing but good things to say and while we're giving away just a few, Seidio products are absolutely worth checking out for future purchase.
Take a peak at the gallery below, check out how the case looks on the device itself and then leave a comment below telling us why you love your smartphone. Is it capturing pictures of your newborn or catching your kids at their soccer match? Perhaps the instant shutter on the HTC One S helped you grab that picture of bigfoot you're circulating to the tabloids? We're making winning incredibly easy, just tell us why you love that smartphone oh so much.
The contest begins as soon as this post goes up and continues through Sunday evening, 11:59pm ET. Just leave a comment below and if you're a Disqus user, make sure your email is listed with your username or make sure to leave it in the comment so we can contact you. Ready, set, go.
Find out more about the Seidio Surface case and Seidio Active case at the urls below.