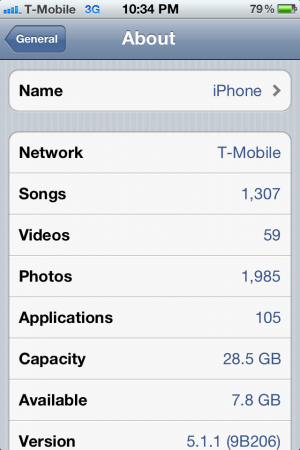 Updated: It's real! T-Mobile just sent us the following statement:
T-Mobile Statement:

While upgrading coverage inside the West side of the Moscone Center, T-Mobile has also deployed 4G HSPA+ service in the 1900 MHz band to test the live network on a small scale. As part of the company's previously announced $4 billion network modernization effort, T-Mobile plans to launch 4G HSPA+ service in the 1900 MHz band in a large number of markets by the end of the year, which will make our 4G network compatible with a broader range of devices, including the iPhone.

NOTE: The time and location of this test is just coincidental.
A 9to5Mac report circling the interwebs right now is raising a few eyebrows in the T-Mobile community at the suggestion T-Mobile could be ready to show off the iPhone running on their refarmed 1900MHz band network. The 9to5Mac reader reported walking by Moscone West, ground zero for next weeks Apple super-event and experienced quite the iPhone on T-Mobile anomaly —-  a change in his iPhone from EDGE to 3G, which occurred just for the one block around the center itself. Accordingly, the reader specifically said he has passed by the center before and never had the iPhone indicate 3G service, for what should be obvious reasons.
Now, eyebrows are raising that T-Mobile may take some time next week to show off the possibilities of unlocked iPhone's running on their refarmed network. T-Mobile could make use of MicroCell's in and around Moscone Center to prepare for the influx of folks attending the Apple conference.
Now, the 9to5Mac report specifically says that they aren't sure if this is a fluke, or a hint of things to come next week. Let's be clear that there is no clear sign Apple will announce their next generation iPhone next week, nor that T-Mobile will be among those carrying the iPhone when it is announced.
T-Mobile could be using the time to show off the capabilities of their refarmed network ahead of its purported completion time of later this year. Now, I should add that this persons experience mirrors more than a thousand-plus reports I've seen in the last two months showing T-Mobile is clearly making some progress on the refarming front.
Is this a sign of things to come? We hope so, because even if the iPhone running on T-Mobile's refarmed 1900 network isn't your cup of tea, the door still opens to dozens of new handsets that can take advantage of the new network.