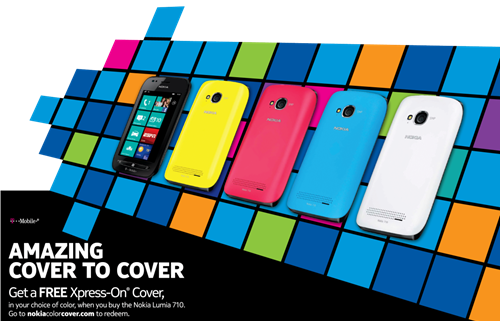 Nokia just dropped us a line alerting us to an extension to their free Color Cover program for Lumia 710 buyers now good through April 30th. Throughout the month of April, new and existing T-Mobile Lumia 710 owners can visit www.nokiacolorcover.com and choose their favorite Xpress-on color cover, and Nokia will ship it you at no cost. So what do you need to do?
Complete an Online Submission Form at www.nokiacolorcover.com (available March 1, 2012, through April 30, 2012), including  full name, mailing address (no P.O. Boxes), city, state, ZIP code, phone number, email address, date of purchase and 15-digit IMEI of the device purchased.  The IMEI number can be found on the UPC sticker on the device box, or under Settings/About/More Info on your Nokia Lumia 710 system menu. Upon submission, consumer must click "Print Form" to print out their completed Online Submission Form.

Once an Online Submission Form is completed, consumers must submit in one mailing envelope: (1) the completed Online Submission Form, (2) original sales receipt showing purchase price and store, dated between January 11, 2012, and April 30, 2012, and (3) original UPC and barcode panel from the eligible Nokia Lumia 710 device package to: Nokia Xpress-On Cover Offer, Dept. 533800, P.O. Box 342140, Memphis, TN 38184. Claims must be postmarked by May 14, 2012, and received by May 21, 2012.
In related news, T-Mobile is going all-in with the price on the Lumia 710 knocking it down to free after a $50 mail-in rebate. Rumor has it the price is good for new and upgrade eligible customers, though we've been unable to confirm the latter part. Drop a line in the comments if you see the offer available as an upgrade.