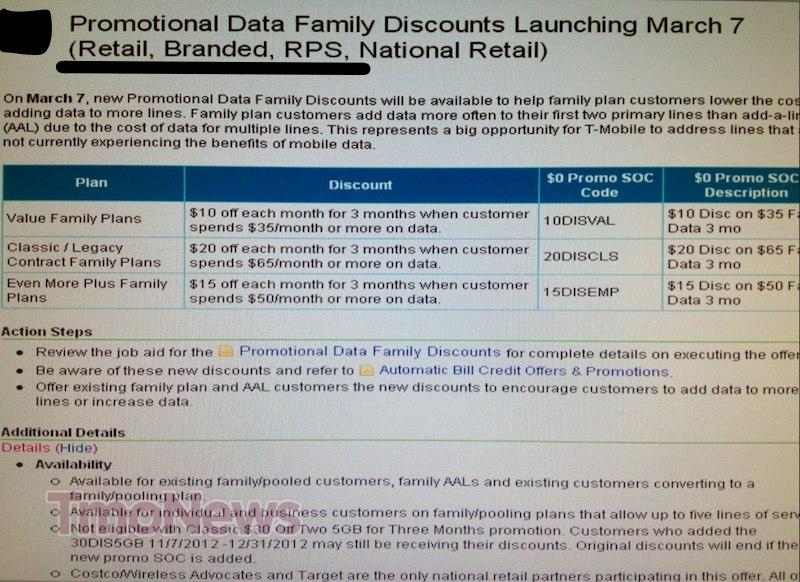 We've just received this little goody in our inbox highlight a brand new promotion T-Mobile is set to launch March 7th. So what is this plan I speak of?
T-Mobile's new Promotional Data Family Discounts "…will be available to help family plan customers lower the cost of adding data to more lines. Family plan customers add data more often to their first two primary lines than add-a-lines due to the cost of data for multiple lines."
Let's break this down:
For Value Plan customers: Get $10 off for 3 months when you have $35 worth of data on your family plan
For Classic and Legacy Contract: Get $20 off for 3 months when you have $65 worth of data on your family plan
For Even More Plus: Get $15 off for 3 months when you have $50 worth of data on your family plan
This offer is good for all existing family/pooled customers, family add-a-lines and existing customers converting to a family/pooled plan. Customers must add/upgrade a data feature on at least one line — which leads me to believe that this promo will not apply to customers already with data plans on existing add-a-lines. Discounts will apply following the first FULL bill cycle after the promo is added to the family plan. Customers will receive a total of 3 months worth of discounts, starting with that first full bill cycle. The discount is divided equally among each line on the family plan, for example: a Value customer with 4 lines on their family plan will see 4 bill adjustments of $2.50 per line, totaling $10.
Sure the promotion only last 3 months but we're never one to ignore even the slightest bit of savings received from any wireless carrier. It's nothing like the "Kids are Free" promo T-Mobile ran at the end of 2010, but we're happy to put any money back in our pockets.
What say you?