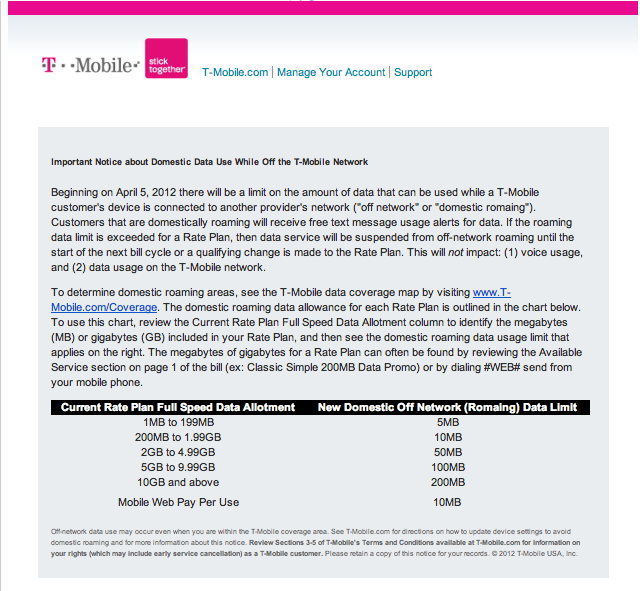 We're going to shift gears a little this evening and move away from exciting phone news over the last 24 hours and do a quick refresh on T-Mobile's upcoming Domestic Data Roaming changes. We've already gone in-depth with the upcoming changes and for those of you that received an email this past weekend, it should highlight exactly what we've already covered. We won't to go into much detail, instead I urge you to check out the earlier posts on this subject to get the full background. You can also check out T-Mobile's official FAQ on the subject, along with the ever important question of whether this change results in an escape route ETF free.
If we can direct your attention to the last few lines of the email, T-Mobile encourages you to check sections 3-5 of T-their terms and conditions available on T-Mobile.com to check information on your rights. Those rights "…maybe include early service cancellation." We have no idea how T-Mobile is determining which customers qualify for an ETF waiver, but if you're eager to bolt for the door, we'd suggest contacting customer care an evaluate your options.
The full text of the email follows below.
Beginning on April 5, 2012 there will be a limit on the amount of data that can be used while a T-Mobile customer's device is connected to another provider's network ("off network" or "domestic romaing"). Customers that are domestically roaming will receive free text message usage alerts for data. If the roaming data limit is exceeded for a Rate Plan, then data service will be suspended from off-network roaming until the start of the next bill cycle or a qualifying change is made to the Rate Plan. This will not impact: (1) voice usage, and (2) data usage on the T-Mobile network.

To determine domestic roaming areas, see the T-Mobile data coverage map by visiting www.T-Mobile.com/Coverage. The domestic roaming data allowance for each Rate Plan is outlined in the chart below. To use this chart, review the Current Rate Plan Full Speed Data Allotment column to identify the megabytes (MB) or gigabytes (GB) included in your Rate Plan, and then see the domestic roaming data usage limit that applies on the right. The megabytes of gigabytes for a Rate Plan can often be found by reviewing the Available Service section on page 1 of the bill (ex: Classic Simple 200MB Data Promo) or by dialing #WEB# send from your mobile phone.

Current Rate Plan Full Speed Data Allotment

New Domestic Off Network (Roaming) Data Limit

1MB to 199MB — 5MB
200MB to 1.99GB — 10MB
2GB to 4.99GB — 50MB
5GB to 9.99GB — 100MB
10GB and above — 200MB
Mobile Web Pay Per Use — 10MB

Off-network data use may occur even when you are within the T-Mobile coverage area. See T-Mobile.com for directions on how to update device settings to avoid domestic roaming and for more information about this notice. Review Sections 3-5 of T-Mobile's Terms and Conditions available at T-Mobile.com for information on your rights (which may include early service cancellation) as a T-Mobile customer. Please retain a copy of this notice for your records. © 2012 T-Mobile USA, Inc.