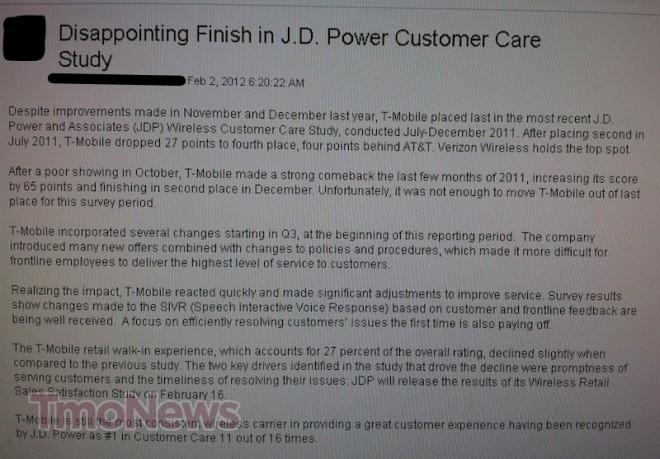 This is one report I'm truly disappointed to write as I feel the mighty have fallen. T-Mobile, once an all-star in the customer service field with enough JD Power awards to fill an entire trophy room, has fallen to fourth place in the most recent JD Power Wireless Customer Care report announced this morning. Don't get me wrong, I had early signs this was happening as I reported back on January 27th that T-Mobile was in line for a fourth place showing, but it's disappointing to see it really happen. Between churn reduction and repairing their once mighty customer care program, T-Mobile certainly has their work cut out for 2012. Let's be clear about one thing though, this fourth place showing is a result of policy changes and not staff. I know plenty of customer service folks and I can say with absolute certainty, they have grave concerns over how they are able to do their job…especially from over a year ago.
Thankfully, T-Mobile acknowledges these changes as they say "..the company introduced many new offers combined with changes to policies and procedures, which made it more difficult for frontline employees to deliver the highest level of service to customers." Acknowledging the problem is a great first step Magenta, but what's next? Take the handcuffs off of your employees and let them do what they have done so well for so long. Let great customer service be great customer service.
The two largest complaints I hear are the time in which issues are resolved and the ability to get a hold of customer care in a timely fashion. Therein lies the first steps to take to resolving and revitalizing your customer service. Time is money, for both the company and the customer so focusing on resolving the issue in a timely manner while ensuring customers are routed to the right department properly are two key ways to make the customer happy. Of course, T-Mobile knows this, they have dozens of people on the pay roll to think of these things before I or you, the readers do. Now is the time to execute these strategies as T-Mobile is poised for a comeback post-AT&T. It's a fresh slate in 2012 and a first place showing in JD Power before years end would show just how serious T-Mobile is about remaining a player in the US wireless market.
T-Mobile has won the JD Power award 11 out of the last 16 times so we know that they know how to execute a great customer care strategy, so let's see it happen again. Read the full JD Power press release here.
Email sent to T-Mobile employees this morning:
I have some disappointing news to share. The J.D. Power award for Wireless Customer Care was announced today and we finished in last place. We dropped to fourth place, four points behind AT&T. Verizon Wireless continues to hold the top spot.

Delivering outstanding customer service is core to who we are, making this news especially difficult. I know that each of you have a sense of pride in taking care of our customers and I truly appreciate your daily contributions.

We experienced many challenges in 2011 that impacted our service quality. Doing what's right for the customer AND the business is a delicate balance. So when we saw customer satisfaction scores decline, we responded. We made changes to the SIVR based on customer and frontline feedback which are being well received. We focused on iOCR and our scores started improving and we made myVOC an integral part of our new balanced metrics program. The good news is that we've started trending in the right direction, but there is still much work to do.

The latest JDP survey shows that Concern is an area of opportunity for us. Acknowledging the customer's issue and taking ownership of it shows that we care. Knowledge is key – being confident in our solutions builds customer trust. And, Resolution is still foundational to our success. I'm sure all of this sounds familiar – Courtesy, Concern, Timely Resolution and Knowledge. We must refocus on these.

You may ask, what about sales? Sales remains an integral part of our Resolve, Sell, Grow strategy and this isn't going away. However, we must strive to balance Service and Sales. We will continue to ensure you have the right tools and resources to be successful.

So, how can you make a difference? Focus on your myVOC scores. When our customers are happy, this is reflected in JDP. I know this team has the passion and commitment to regain our service leadership. Let's do this by "Winning Back Our Customer's Trust One Call at a Time!"