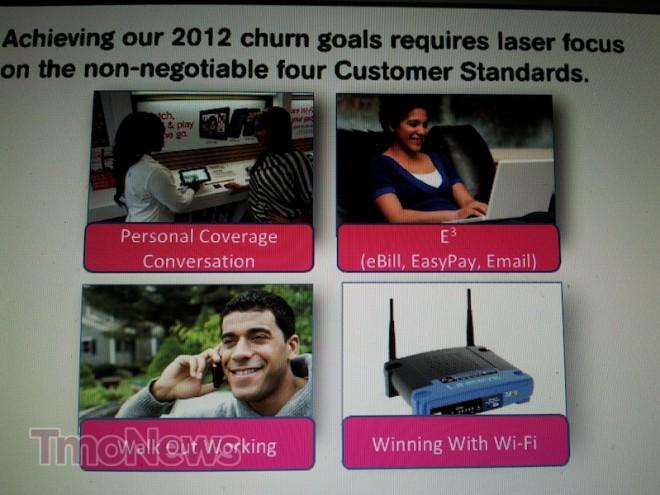 T-Mobile's churn-reducing efforts for 2012 continue with new frontline employee training highlighting "four non-negotiable customer standards." T-Mobile is looking for frontline employees to cover four basic steps to help make sure a customer leaves the store happy and smiling. The first step is a personal coverage check to determine if the future T-Mobile customer will have a good signal at their home or office. We've already seen a document regarding churn that suggests T-Mobile sales representatives honestly tell a customer T-Mobile may not be a right fit based on coverage. Second, T-Mobile wants frontline staff to set up EasyPay for customers to make sure they are able to pay their bills as easily as possible along with being able to review all billing online. Customers then move to step 3 and leave the store after their salesperson makes sure their new smartphone is working properly. Lastly, if the first step yields a questionable coverage area, T-Mobile wants frontline staff to work with customers by suggesting a Wi-Fi solution to help customers get the very most out of the T-Mobile experience. As a side note, I love the 2007 looking Wi-Fi router, that's awesome.
Now, all of these are good steps but they don't mention the "real" reasons we feel customers are leaving T-Mobile. Hidden fees, confusing rate plans, unusual regular fees, and the iPhone. We can leave the iPhone out of the conversation today because we all know the argument for why T-Mobile should have the iPhone.
Most important however, should be the overall concern for the customer. We've heard some rumors lately that T-Mobile's next showing for J.D. Power and Associates could be fourth place, that would be last among the national carriers. That's a far cry from where T-Mobile was just a few short years ago. Obviously that's pure rumor for right now and until we see an actual J.D. Power's report, nothing we we'd be willing to bet money on. However, T-Mobile does need to make sure that first-time customers calling into customer service receive the very same experience as customers who have been with T-Mobile for a number of years. These are the kind of complaints we see in our comments time and time again. Hopefully the T-Mobile brass that read TmoNews regularly haven take note of the customer service pitfalls as of late and are working on a plan to return T-Mobile to J.D. Power glory.
As always, we've got faith in T-Mobile to make changes, they had/have a fantastic customer service experience and we know they can bring back the prestige, we just hope that they recognize the processes listed in the above screengrab are given the same amount of attention as the "hidden" fees that have been the source of much irritation lately for T-Mobile customers.