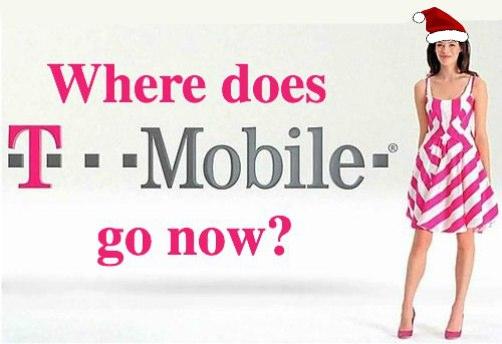 I know there is a celebratory aura going around in the T-Mobile world today and employees especially are breathing sighs of relief. Here at TmoNews we're definitely glad to see AT&T and their proposed takeover of T-Mobile go down the toilet. Now we turn our attention to the fact that T-Mobile still needs a plan and their options are plentiful, with most of them already well-known having been widely discussed as alternatives while AT&T was playing out. It remains to be seen which options, if any, are the most likely or the most plausible but we won't ignore the fact that T-Mobile still has a bumpy road ahead even as we celebrate the removal of AT&T as a buyer.
With the deal done, AT&T has said they will give Deutsche Telekom the agreed upon $3 billion in cash and $1 billion in spectrum for the break-up fee. Let us emphasize the fact that money is going to Deutsche Telekom and nothing has been shown that says they are under any obligation to spend that money on their US operations. In plain words, they can do whatever they want with the cash. Assuming they did use that money in the US, the breakup fee could give Deutsche Telekom some incentive inside the US market they have seemingly sworn off.
Moving on, let's be clear about one thing. T-Mobile needs the iPhone. We're well beyond the point where the iPhone would attract a new customer base for T-Mobile, however it would at the very least boost their smartphone lineup to include all options for all people. Now that the merger is out of the way, T-Mobile needs to broker a deal with Apple, period. T-Mobile has thrown their lot in with Android and, in some sense, it's paid off. That doesn't ignore the idea that T-Mobile appears weak without the iPhone in their lineup. First, the company must cut off any reason which customers might choose to abandon T-Mobile and one of the major reasons remains the iPhone competition.
The iPhone aside, what can Deutsche Telekom do? One option is to put that $3 billion to work on potential acquisitions of its own. T-Mobile could expand its prepaid presence, the one area where it is still grabbing customers by the truckload, by making a play for MetroPCS or Leap Wireless. However, both of these deals would have their own set of issues as incompatible technologies would make for a difficult transition. Leap began to see serious rumors about a potential T-Mobile hookup as soon as the AT&T deal started going south.
Another possible scenario is that Deutsche Telekom uses the breakup fee and goes after more spectrum. It's no secret that T-Mobile needs more spectrum to rollout 4G LTE and Deutsche Telekom has been reluctant to spend money acquiring spectrum for their USA branch. Deutsche Telekom could go after a government auction or get it through an acquisition as Verizon just did by scooping up SpectrumCo.
The conversation moves to Dish Network which has its own wide group of AWS holdings that would lend to a perfect tie-in with T-Mobile. As Dish competitors (Bright House Networks, Time Warner Cable, Comcast, Cox) seek to partner with Verizon for wireless services, perhaps Dish will make a play to partner with T-Mobile. Its CEO has led us to believe that he likes the idea of hooking up with T-Mobile for that very reason. Dish plans to build its own LTE network and a partnership with T-Mobile could be mutually beneficial for both parties. The combination of spectrum from these dynamically diverse companies could allow them to come together even though they run two very different companies.
Now we're faced with what I feel is the least likely scenario, a potential deal with Sprint. Given the opposition AT&T faced from the government, would a deal with Sprint face less roadblocks? It's true that a Sprint/T-Mobile deal would create a powerful third competitor, but it would still cut the number of competitors in the top 100 markets. The government has made it clear they want four large competitors in the marketplace. Regulators might also be concerned about two value-priced carriers coming together and possibly influencing higher prices as a result. Aside from that, Sprint isn't exactly cash heavy and not in any real place to make a serious offer for T-Mobile. Sprint has already committed to a wide launch of LTE and will need all of its cash to make that happen in the timeline it has proposed. If anything, a deal with Sprint could be more of an equal partnership and not one party having more control than the other. This could lead Deutsche Telekom to take a large stake in Sprint but even that may not be worth the trouble. Deutsche Telekom would have to pump cash back to help both companies continue with their LTE plans. A plausible but unlikely scenario.
So what about Deutsche Telekom in general? They could attempt to sell T-Mobile (again) to another major wireless player, likely a global partner. China Telecom and American Movil are two names that have rocketed to the top of the list. China Telecom may face an uphill battle as the government may put significant roadblocks in front of a Chinese-American deal. America Movil already has a combination of smaller, prepaid wireless carriers including Tracfone in the US market that offers an existing 15 million customer unit. Another name is CenturyLink, the third largest telecommunications company in the US, behind AT&T and Verizon Communications. CenturyLink currently owns small pockets of 700MHz and 1700MHz blocks of spectrum and might decide that a T-Mobile deal offers the best way to put that spectrum to use.
The bottom line remains that T-Mobile has taken some huge hits as of late and with the AT&T deal dead, it has an uncertain future. T-Mobile's failed deal has cost it a lot of time and, with a lot of valuable spectrum, it remains very appealing to a lot of potential investors and suitors. T-Mobile will need to get creative as it begins to write its own path yet again and it might consider looking outside the box at a number of potential partners who can bring significant cash to the table. Examples are Amazon, Facebook, Google…all names that have been thrown about in conversation as potential deal-makers. With AT&T out of the picture, these conversations can get a little more serious and T-Mobile can begin to explore new opportunities in the hopes of improving its fortunes. Some of these names may sound crazy, but spectrum is a valuable commodity these days so it would behoove us not to write anyone off as a potential suitor.
We hope that Deutsche Telekom and T-Mobile get together and have a long, hard conversation about the past and where it must go in the future. The spectrum from AT&T is expected to be transferred before year's end as AT&T prepares a roaming agreement with T-Mobile, allowing customers of both networks to make use of the other's network. This will help keep T-Mobile afloat for the immediate future but it's a short-term solution.
We hope by using one of these answers, or one we haven't thought of yet, that T-Mobile revitalizes and begins to assert its underdog position as it works to grab new marketshare and reshapes its future. Come on Magenta, we're with you.