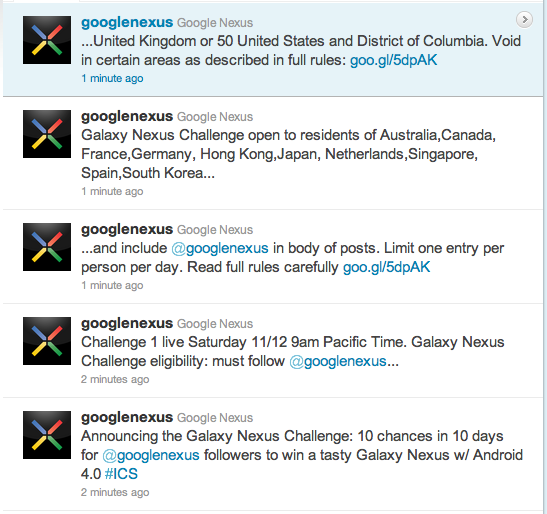 We've got our fingers crossed this contest offers up a Galaxy Nexus smartphone that is unlocked for all networks  as Google is offering you a chance to win one of 10. With 10 chances in 10 days all you have to do is play a little trivia, answer a question and score your chance to win.
The Galaxy Nexus Challenge (the "Contest") is a skill contest where participants must submit via Twitter solutions to puzzles, photo challenges and essay questions ("Solutions") to win prizes. The Solutions will be evaluated by judges, who will choose the daily winning entries in accordance with these Official Rules. The prize(s) will be awarded to participant(s) whose Solution is evaluated as having the highest score in the judging criteria.
Sounds good? So follow @GoogleNexus and wait for your chance to win. Keep your fingers crossed the US prize isn't a Verizon based Nexus smartphone because this is a great chance for Google to give away some unlocked Nexus smartphones to Google fans on all networks.