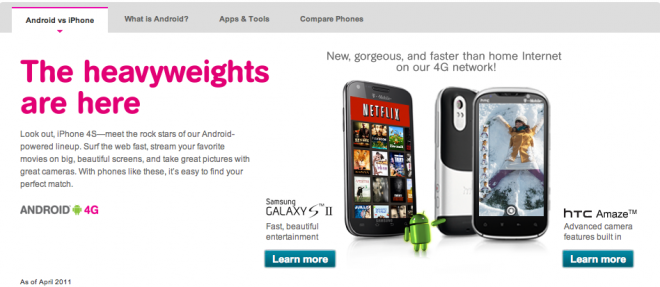 T-Mobile's newest corporate blog post comes just weeks after a similar looking statement from T-Mobile CMO Cole Brodman with both posts emphasizing the power of T-Mobile's Android lineup. This time around the focus is once again on the lack of the iPhone 4S on T-Mobile, except this time T-Mobile directly states that part of the reason is Apple's decision not to produce a compatible variant of the iPhone that will work on T-Mobile's 3G/4G network.
Given my just posted Galaxy S II review, there is plenty of strength in T-Mobile's Android lineup, on that we can hopefully all agree. I do appreciate T-Mobile's forthright approach on the subject of the iPhone however, given the notion that there is plenty of demand for it on T-Mobile's network. Still, in the absence of the iPhone, T-Mobile is ready to show millions of customers why Android is the fastest growing OS on the planet.
I think the fact remains that if and when Apple puts out a T-Mobile-compatible AWS ready iPhone, they'll jump on it. In the meantime, almost 100% of the attention is on their Android smartphones and provided they contribute to 90% of T-Mobile's smartphone sales, the attention is well deserved.
Full Statement:
NOTE:  This statement may be attributed to Andrew Sherrard, Senior Vice President, Marketing, T-Mobile USA.

T-Mobile thinks the iPhone is a good device and we've expressed our interest to Apple to offer it to our customers. Ultimately, it is Apple's decision. The issue remains that Apple has not developed a version of the iPhone with technology that works on our fast 3G and 4G networks. We believe a capable version of the iPhone for our 3G and 4G networks would offer an additional compelling option for our customers on a fast 4G network. However, the iPhone is not the only option to experience the benefit that smartphones offer.

T-Mobile's 4G smartphones stack up against competitive smartphones in terms of functionality, speed, features offered and overall experience – including the iPhone 4S. Reports continue of iPhones not operating well on some carrier networks, while our latest 4G smartphones offer many advantages vs. the iPhone 4S:

Capable of faster speeds
Bigger screens
Compelling service pricing
More advanced camera on the HTC Amaze 4G
More choice

We firmly believe that T-Mobile's portfolio will give any iPhone a run for its money. We offer the increased processing power and faster 4G speeds achieved by our fastest smartphones, the most advanced camera of any smartphone on the HTC Amaze 4G, and our industry-leading 4.52" super AMOLED display offered on the Samsung Galaxy S II.

With our portfolio of Android, Windows, and BlackBerry smartphones, fast 4G network, and competitively priced worry-free unlimited talk, text, and data plans, we believe it's a great time to be a T-Mobile customer.